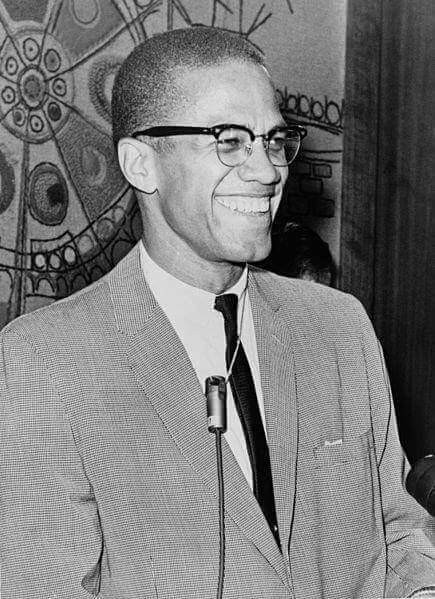 Malcolm X publicly announced his break from the Nation of Islam. X said that he was still a Muslim, but he felt the Nation of Islam had "gone as far as it can" because of its rigid religious teachings.
"I did many things as a [Black] Muslim that I'm sorry for now. I was a zombie then … pointed in a certain direction and told to march"—and becoming a Sunni Muslim, he disavowed racism and expressed willingness to work with civil rights leaders, he said that Elijah Muhammad had prevented him from doing so in the past.
He also continued to emphasize Pan-Africanism, black self-determination, and self-defense. Malcolm X said he that would try to "heighten the political consciousness" of African Americans.

REASONS FOR THE SPLIT WITH NOI: One reason for the separation was growing tension between Malcolm X and Elijah Muhammad because of Malcolm X's dismay about rumors of Muhammad's extramarital affairs with of age and underage secretaries, actions that were against the teachings of the Nation.
At first Malcolm X had ignored the rumors, after speaking with Muhammad's son Wallace and the women making the accusations, he came to believe that they were true.
Muhammad confirmed the rumors in 1963 but tried to justify his actions by reference to precedents set by Biblical prophets.
Another reason for the separation was growing resentment by people within the Nation.
As Malcolm X had become a favorite of the media, many in the Nation's Chicago headquarters felt that he was over-shadowing Muhammad.
Louis Lomax's 1963 book about the Nation of Islam, When the Word Is Given, featured a picture of Malcolm X on its cover and included five of his speeches, but only one of Muhammad's, which greatly upset Muhammad. Muhammad was also envious that a publisher was interested in Malcolm X's autobiography.
After leaving the Nation of Islam, Malcolm X founded Muslim Mosque, Inc., a religious organization, and the Organization of Afro-American Unity, a secular group that advocated Pan-Africanism.
Read more stories like this at: Daily Black History Facts