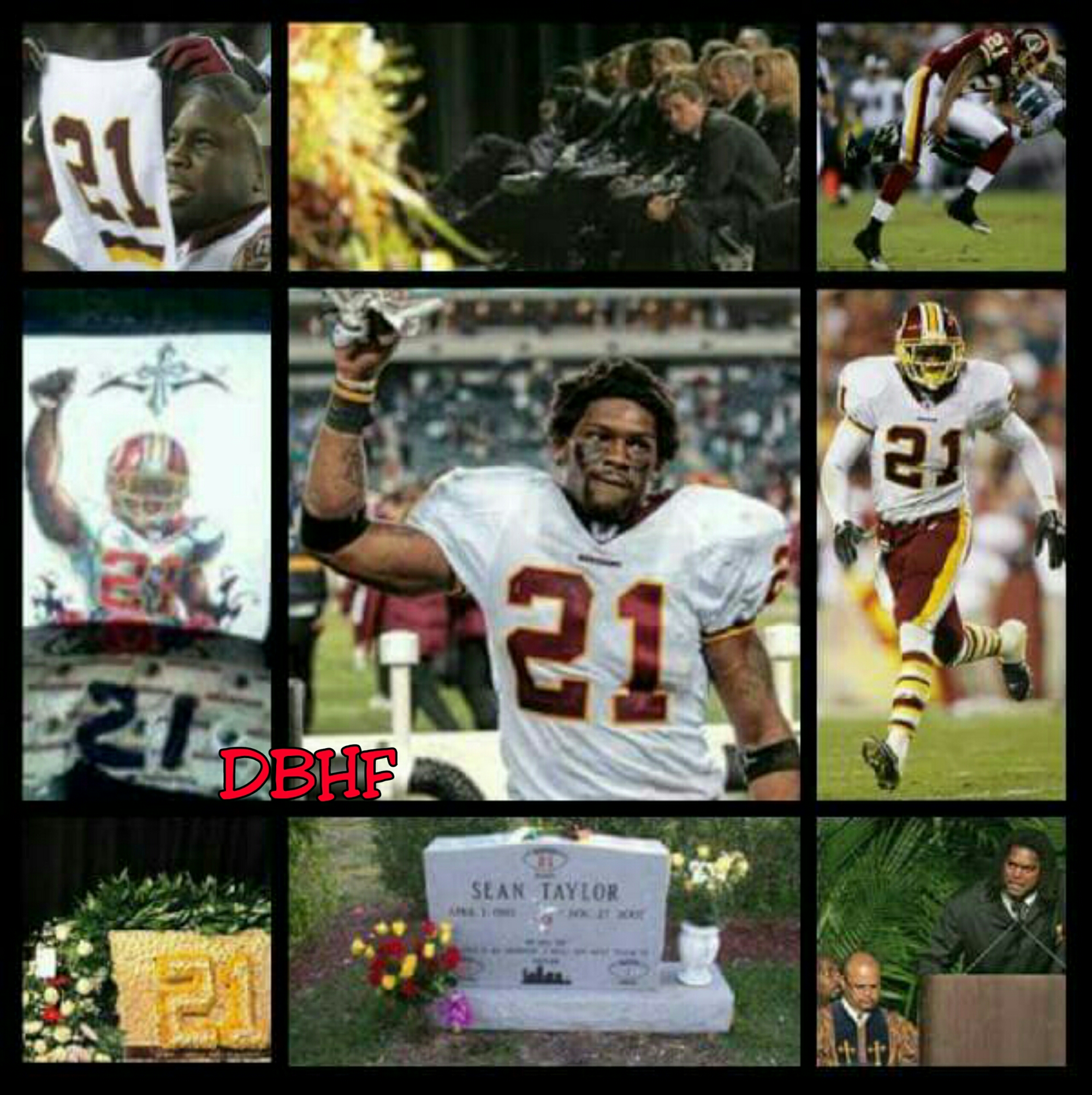 Taylor died at the hospital at 3:30am. He was 24 years old.
The news was released to the media by Richard Sharpstein, a family friend who learned the news from Taylor's father around 5:30am, and by Drew Rosenhaus, Taylor's agent.
8 days after the original burglary, on November 26 at 1:45am EST, Taylor was shot in the upper leg by an armed intruder at his home in Palmetto Bay, Florida, where he had been recuperating from a football injury. His femoral artery was hit and severed, causing a mortal wound. His longtime girlfriend, Jackie Garcia (a niece of actor Andy García), hid under the bedding with their 18-month-old daughter Jackie. Garcia then called 9-1-1from her cell phone.
Taylor was airlifted to the Ryder Trauma Center at Jackson Memorial Hospital in Miami, where he underwent surgery. He emerged from surgery about 12:30pm. He had lost a significant amount of blood and remained in a coma. His doctors speculated he may have suffered brain damage due to the blood loss, and an unnamed Redskins source reported that Taylor's heart stopped twice during the emergency surgery.
Sean Taylor was a college and professional football player who was a free safety for the Washington Redskins of the NFL for four seasons. He played college football for the University of Miami, was a member of the Hurricanes' 2001 BCS National Championship team, and earned unanimous All-American honors. The Washington Redskins chose Taylor with the fifth overall pick of the 2004 NFL Draft.
Due to his ferocious hits, several of his Redskins teammates nicknamed him "Meast", a portmanteau word from the expression "half man, half beast."
Taylor died at the age of 24 on November 27, 2007, from critical injuries from a gunshot by intruders at his Miami area home. His death led to an outpouring of national support and sympathy, especially in the Washington area, where Taylor had been a fan favorite as a Redskin, and the Miami area, where Taylor had starred for the Miami Hurricanes, after leading Gulliver Prep to a Florida state high school championship and setting a state record for most touchdowns in a season.
In honor of Taylor, on the first play of the first game after he was murdered, the Redskins defense lined up with only 10 players which left the area Taylor lined up in at free safety open against the Buffalo Bills.
Read about his funeral & legacy at: Daily Black History Facts