There were 5 cases that aided in the ruling of the Brown v. Board of Education case. Brown was a little girl who was forced by the Topeka, Kansas school district to walk  six blocks to catch a bus to a #black school when a white school was only blocks away from her home. When the case reached the Supreme Court it was combined with four other cases. The lead attorney for the NAACP was #Thurgood Marshall; he argued that separate schools for whites and blacks were unequal because of the psychological damage it imposed on blacks.

1.  Clarendon County, South Carolina-#Briggs v. Elliot:  The case began in 1947 when Reverend Joseph Albert Delaine wanted free bus transportation for his school-aged children. The initial target of the case by Thurgood Marshall was equality over integration. In 1929, there were 20 plaintiffs who demanded equal treatment when it came to transportation for their children. There were two first grade children who had to walk 10 miles a day (back and forth combined) to school. The classrooms were packed for black students, there were usually 47 black students in a room compared to 28 white students. The Black schools had no electricity and no bathrooms.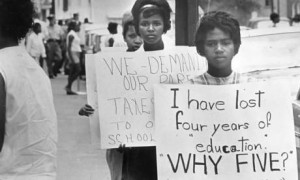 2.  #Davis V. Prince Edward County, VA: At Robert R. Moton High School on April 23, 1951, 450 students went on strike. The strike was led by 16-year-old Barbara Johns a junior at the school. The group were led in a desegregation effort, which came from the desire to have a new school for Blacks. The students called in the NAACP, and lawyers agreed to meet with the students. On the 23rd of May, lawyers filed suit.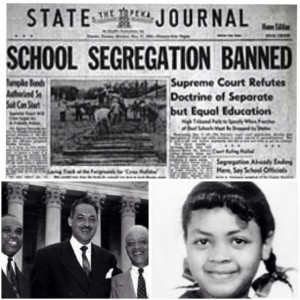 3.  Topeka Kansas: In Topeka Kansas, there was a little girl, seven-year-old Linda Brown, who had to walk six blocks every day to catch a school bus to her segregated school, when there was a school only seven blocks from her home. In Topeka, the segregated black schools were nearly equal to white schools, and public transportation was offered to all children who lived a certain distance from school. Lawyers and the NAACP found that Topeka was the perfect test case.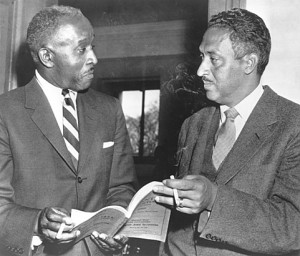 4.  #Bulah V. Gebhart-Wilmington, Delaware: Sarah Bulah's daughter Shirley was not provided with bus transportation, instead she was driven to a one-room school miles away. The Bulah's case was taken on by graduate of Harvard Law School, and in 1952 the court ruled that Bulah and ten other black children were to be admitted immediately to the white schools in their communities.
5.  District of Columbia-#Bolling v. Sharpe: Gardner Bishop wanted his young daughter to attend a white junior high school. The school had several openings, but instead she had to attend a school that was far away from her home. People in the community grew angry, and agreed that a strike demanding equal facilities for their black children was the right answer. Charles Houston, Marshalls' mentor, brought suit for Bishop, and in early 1951 the suit was refiled to include other plaintiffs.
http://www.civilrights.org/education/brown/