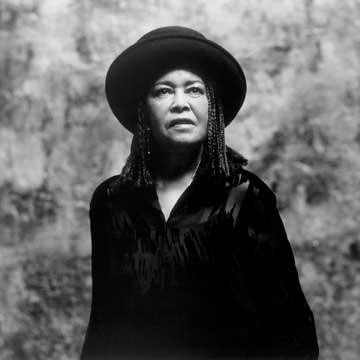 Anna Marie Wooldridge, known by her stage name Abbey Lincoln, was an American jazz vocalist, songwriter, and actress who wrote and performed her own compositions. She was a civil rights advocate and activist.
Lincoln was born in Chicago but raised in Calvin Center, Cass County, Michigan, Lincoln was one of many singers influenced by Billie Holiday. She often visited the Blue Note jazz club in New York City.
Her debut album, Abbey Lincoln's Affair – A Story of a Girl in Love, was followed by a series of albums for Riverside Records. In 1960 she sang on Max Roach's landmark civil rights-themed recording, We Insist! In 1956 Lincoln appeared in The Girl Can't Help It, for which she wore a dress that had been worn by Marilyn Monroe in Gentleman Prefer Blondes (1953), and interpreted the theme song, working with Benny Carter.
Lincoln also achieved some popular success as an actress early in her career through her appearances in such films as Nothing But A Man and For Love of Ivy, for which she received a Golden Globe nomination.  Her television credits as an actress included episodes of such diverse programs as Mission Impossible, The Name of the Game, and All in the Family
Lincoln was married from 1962 to 1970 to drummer Max Roach, whose daughter from a previous marriage, Maxine, appeared on several of Lincoln's albums. Lincoln died on August 14, 2010, in Manhattan, eight days after her 80th birthday.
Source:
http://newarkwww.rutgers.edu/IJS/AbbeyLincoln/index.html