Abdul-Rahman (Abd-Al Rahman; Ibrahima abd-Al Rahman) managed to return to Africa after living as a slave in the United States. His life is one of the rare examples as to how some African captives were able to take their limited resources and good fortune to navigate through the Atlantic world.
Abdul-Rahman ibn Ibrahim Sori was a West African nobleman and Amir who was captured in the Fouta Jallon region of Guinea, West Africa and sold to slave traders in the United States in 1788. He was often referred to as "Prince" after his slave master Thomas Foster discovered his noble lineage.
Abdul-Rahman ibn Ibrahim Sori was a Torodbe Fulani Muslim ruler born in 1762 in the city of Timbo, now located in Guinea. His father, Almami Ibrahim Sori consolidated the Islamic confederation of Futa Jallon in 1776, with Timbo as its capital, where Abdul Rahman lived and studied.
At age 26, he was made Amir of one of the regiments that conquered the lands of the Bambara and in 1788 his father "made him the head a 2000 man army whose mission was to protect the coast and strengthen their economic interest in the region. It was during this military campaign that Abd'r-Rahman was captured and enslaved." He was sold to the British who brought him to Natchez, Mississippi where he labored on the cotton plantation of Thomas Foster for more than thirty-eight years before gaining his freedom.
Rahman claimed to have converted to Christianity when he married his wife Isabella, another of Foster's slaves. Rahman's fortunes changed one day while selling produce in the Natchez market, when he was reacquainted with an old friend, Dr. Coates Cox. He and his father had aided Dr. Cox during his travels in Africa. Dr. Cox tried to purchase Rahman from Thomas Foster, but he refused the offer. Two decades later, Dr. Cox's son, with the assistance of Andrew Marschalk, a local newspaper publisher, launched a campaign to liberate Rahman.
Rahman wrote a letter in 1826 in Arabic to his family. Marschalk forwarded the letter to other politicians until it reached the U. S. Consulate in Morocco. The Arabic handwriting caused others to believe that he was a North African Moor, not an African Muslim. The Sultan of Morocco requested that President John Quincy Adams and Secretary of State, Henry Clay arrange Rahman's release in 1829.
The campaign successfully brought Rahman's plight to the attention of Secretary of State Henry Clay, who convinced President Adams to free Rahman. Marschalk, who erroneously believed that Rahman was from Morocco, sent a letter, which he believed to be evidence of Abdul's claims to the high rank of Sultan. The letter actually contained scriptures from the Qur'an which Ibrahima memorized and wrote down. Despite these mistakes, the Sultan of Morocco was convinced and offered the American consul funds to liberate Rahman and pay for his passage to Africa. In 1828, the Adams Administration gave Marschalk permission to secure Abdul-Rahman's freedom.
Abdul-Rahman and his wife went to various states including soliciting donations, through the press, personal appearances the American Colonization Society and politicians, to free his family back in Mississippi. Word got back to Foster, who considered this a breach of the agreement. Abdul-Rahman's actions and freedom were also used against President John Quincy Adams by future president Andrew Jackson during the presidential election.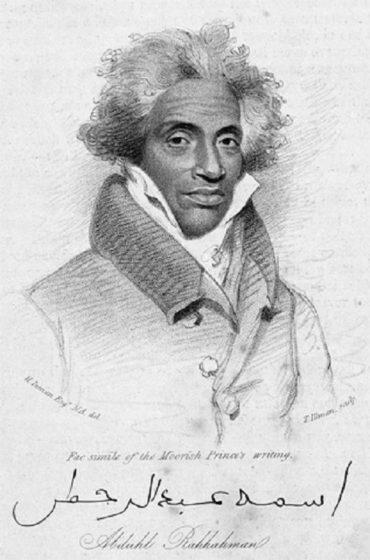 source: