Ada Lois Sipuel Fisher was a key figure in Oklahoma's civil rights movement. She challenged segregated higher education by applying to the University of Oklahoma law school in 1946. Two years later the United States Supreme Court ruled that the college must provide the same level of education to blacks as they do to whites.
Fisher graduated from Lincoln High School in 1941 as valedictorian. She enrolled in the Arkansas Agricultural, Mechanical & Normal College (now University of Arkansas at Pine Bluff), but transferred to Langston University in 1942. After marrying in 1944, she graduated May 21, 1945, with honors.
Years later, Fisher was the first black person to be admitted to OU's law school, but she still dealt with racism and segregation on a daily basis. She was given a chair labeled "colored" to sit in, which was located in a roped-off area of the classroom, and had to eat in a chained-off section of the cafeteria, separate from other students. She graduated in 1951 with a law degree, and her fight and struggle made waves throughout the nation.
Before her death in 1995, Fisher was a member of Alpha Kappa Alpha sorority and also was a professor at Langston University. In 1996 she was inducted posthumously in the Oklahoma Women's Hall of Fame. The University of Oklahoma dedicated the Ada Lois Sipuel Fisher Garden in her honor.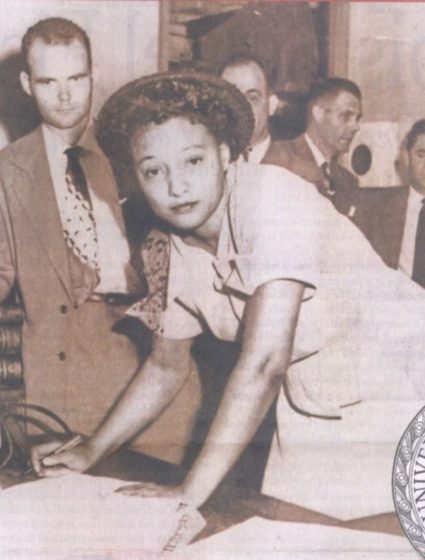 source:
https://en.wikipedia.org/wiki/Ada_Lois_Sipuel_Fisher