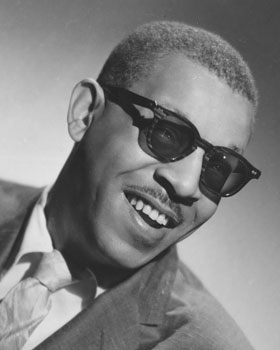 Albert George Hibbler had one of the most distinctive voices of jazz. He was noted for having a strong, emotive, masculine, and steady vibrato sound.
Hibbler was born blind on August 16, 1915, in Tyro, Mississippi. His family moved to Little Rock, Arkansas, when he was 12. Soon after the move, Hibbler began singing soprano in the choir of a school for the blind. His motivation reportedly came from ballad singers, such as Bing Crosby and Russ Columbo.
After Hibbler's voice deepened, he began singing the blues at area roadhouses. After winning a talent contest in Memphis, he joined Jay McShann's Orchestra in 1942. He debuted with Duke Ellington's Orchestra a year later, replacing Herb Jeffries. One of the most significant singers Ellington ever showcased, Hibbler appeared on a range of Ellington standards, including "Do Nothin' 'Til You Hear from Me," "Ain't Got Nothin' But the Blues," "Don't Be So Mean to My Baby" and "I'm Just a Lucky So-And-So."
Hibbler developed an interest in the civil rights movement in the late 1950s, and began marching and protesting in New Jersey and Alabama. During this time, Hibbler was arrested twice during protest marches.
He was later signed by Frank Sinatra to record for his personal label, Reprise Records, for which Hibbler released "Monday Every Day" in 1961. He continued to perform regularly into the 1970s, and was considered to be "an exceptionally good interpreter of twentieth-century popular songs." Al Hibbler died in 2001.
sources:
https://www.britannica.com/biography/Albert-Hibbler
http://aaregistry.org/historic_events/view/unique-voice-al-hibbler
http://www.imdb.com/name/nm0382519/bio?ref_=nm_ov_bio_sm