Andrew Jackson Young, Jr. is an American politician, diplomat, activist, and pastor from Georgia. He has served as a Congressman from Georgia's 5th congressional district, the United States Ambassador to the United Nations, and Mayor of Atlanta.
Young was born on March 12, 1932, in New Orleans, Louisiana, to Daisy Fuller Young, a school teacher, and Andrew Jackson Young, Sr., a dentist. Young graduated from Howard University and earned a divinity degree from Hartford Seminary in Hartford, Connecticut.
He became interested in Mohandas Gandhi's concept of nonviolent resistance as a tactic for social change, which played a role in his encouraging Blacks to register to vote in Alabama. While working in this capacity, he occasionally faced death threats. During this time, he became a friend and ally of Dr. Martin Luther King, Jr.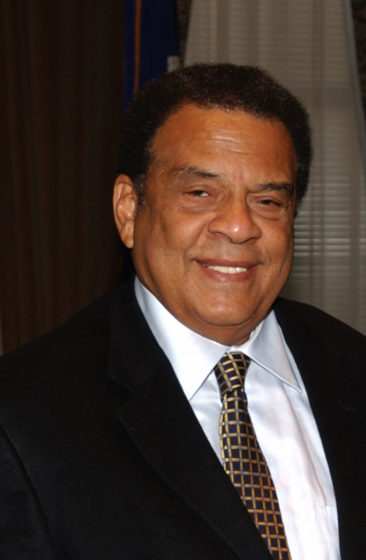 Young served as President of the National Council of Churches USA and was a member of the Southern Christian Leadership Conference (SCLC) during the Civil Rights Movement. In 1977, President Jimmy Carter appointed Young to serve as the United States Ambassador to the United Nations. Young was the first African-American to hold the position. Atlanta city councilman Wyche Fowler won the special election to fill Young's seat in Congress.
In 1981, after being urged by a number of people, including Coretta Scott King, the widow of Martin Luther King Jr., Young ran for mayor of Atlanta. He was elected later that year with 55 percent of the vote, succeeding Maynard Jackson. As mayor of Atlanta, he brought in $70 billion of new private investment. He also continued and expanded Jackson's programs for minority and female-owned businesses in all city contracts.
From February to August 2006, Young served as the public spokesman for Working Families for Wal-Mart, an advocacy group for the retail chain. However, he stepped down from the position soon after a controversial interview with the Los Angeles Sentinel; when asked about Wal-Mart hurting independent businesses, he replied, "You see those are the people who have been overcharging us, and they sold out and moved to Florida. I think they've ripped off our communities enough. First, it was Jews, then it was Koreans and now it's Arabs."
Young has received several awards and honors, including The NAACP Spingarn Medal, Four Freedoms Award for the Freedom of Worship, and 1995 Eagle Award from the United States Sports Academy.
source:
http://www.biography.com/people/andrew-young-jr-9539326