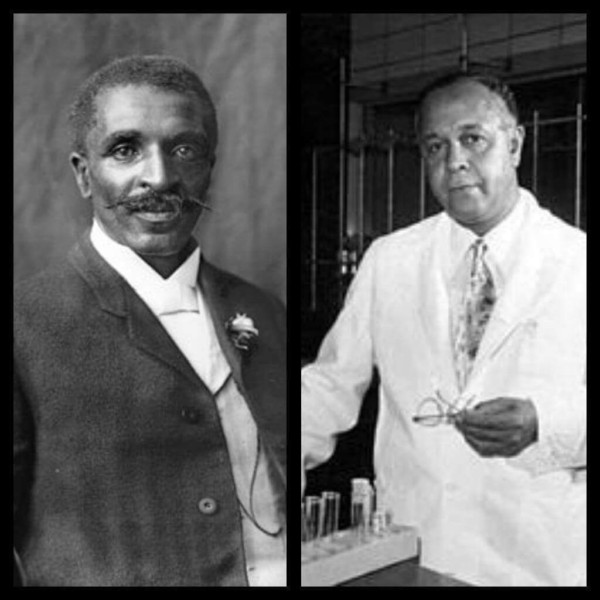 George Washington Carver and Percy Julian become the 1st African American Inventors admitted into the National Inventors Hall of Fame in the hall's 17-year history.
George Washington Carver was an scientist, botanist, educator, and inventor. He discovered three 300 uses for peanuts and hundreds more for soybeans, pecans and sweet potatoes. Among the listed items that he suggested to southern farmers to help them economically were adhesives, axle grease, bleach, buttermilk, chili sauce, fuel briquettes (a biofuel), ink, instant coffee, linoleum, mayonnaise, meat tenderizer, metal polish, paper, plastic, pavement, shaving cream, shoe polish, synthetic rubber, talcum powder and wood stain. Three patents (one for cosmetics; patent number 1,522,176, and two for paints and stains; patent numbers 1,541,478 and 1,632,365) were issued to George Washington Carver in the years 1925 to 1927; however, they were not commercially successful.
Percy Julian was a research chemist and a pioneer in the chemical synthesis of medicinal drugs from plants. He was the 1st to synthesize the natural product physostigmine, and a pioneer in the industrial large-scale chemical synthesis of the human hormones, steroids, progesterone, and testosterone, from plant sterols such as stigmasterol and sitosterol. His work would lay the foundation for the steroid drug industry's production of cortisone, other corticosteroids, and birth control pills.
Julian later started his own company to synthesize steroid intermediates from the Mexican wild yam. His work helped greatly reduce the cost of steroid intermediates to large multinational pharmaceutical companies, helping to significantly expand the use of several important drugs.
During his lifetime he received more than 130 chemical patents. Julian was one of the first African-Americans to receive a doctorate in chemistry. He was the 1st African-American chemist inducted into the National Academy of Sciences, and the 2nd African-American scientist inducted from any field.
Read more stories like this at: Daily Black History Facts