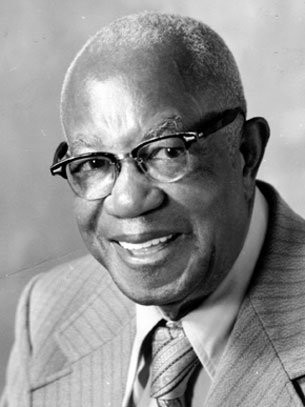 Little known to most people is the role Arthur George Gaston (A.G.) played in history. By the 1960s, Arthur G. Gaston was probably the richest black man in America. Gaston went from living in a log cabin to becoming a funeral home and business mogul. He was a multimillionaire by the middle of the 20th century. He ran an insurance company and his funeral home business — Smith and Gaston — which by then had 13 branches in Alabama. He later opened his own savings and loan, a business college, and his own motel — the Gaston motel.
Born in a log cabin in Demopolis, Ala., in 1892, he overcame his humble beginnings to become a business leader, and later, a behind-the-scenes political leader at a critical time in civil rights history. Gaston got his first taste of operating a business as a young boy selling rides on a tree swing in his grandparent's backyard, instead of charging money, he charged buttons.
Gaston moved with his mother as a young boy to Birmingham, Alabama were he was able to find work at the Tennessee Coal and Iron Company. While working, he soon realized that one of the growing needs in the black community was a way to give the deceased a fine home going, he started his own burial society.
The society asked members to pay 25 cents to Gaston each week. These payments would guarantee members a fine burial upon death, but within three weeks of beginning his project, a member of the society passed away. With just $10 in premiums and a looming $100 in funeral costs.
In search of a way to rectify the problem, he bargained with a Birmingham funeral director for installment payments, and later admitted his mistake to the local minister. Ultimately, this misstep helped boost the success of his venture.
During the civil rights era, wealthy black community leaders often used their money and influence to get rid of segregated areas. Gaston went to a local bank and threatened to take out his millions of dollars if the segregated water fountains were not removed out the lobby. Arthur George Gaston died on January 19, 1996, he was 103.
sources: