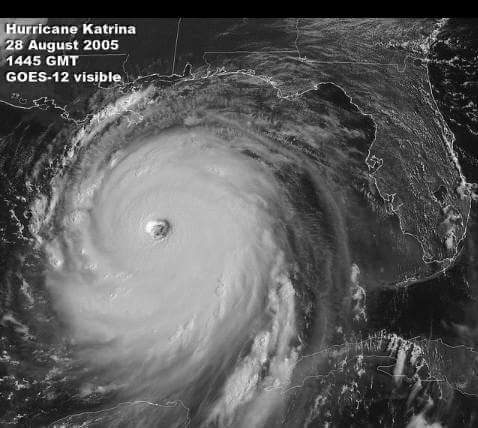 It was Sunday, at 12:40 AM CDT, when Katrina is listed as a Category 4 intensity with 145 mph winds.
By 7:00 AM CDT, it was a Category 5 storm, with maximum sustained winds of 175 mph, gusts up to 190 mph and a central pressure of 902 mbar.
In a press conference at roughly 10:00 AM CDT, Nagin declared that "a mandatory evacuation order is hereby called for all of the parish of Orleans." "We're facing the storm most of us have feared," he told the early-morning news conference, with the governor at his side.
Following Nagin's speech, Governor Blanco stated that President Bush called her "just before" the press conference and said that he was "concerned about the [storm's] impact" and asked her "to please ensure that there would be a mandatory evacuation of New Orleans."
Katrina was expected to make landfall overnight.
Shortly after the meeting, at 10:00 AM CDT, the National Weather Service issued a bulletin predicting "devastating" damage.
At 12:00 PM CDT, the Louisiana Superdome was opened as a "Refuge of last resort" for those residents that were unable to obtain safe transport out of the city. 20,000 people entered the Dome. 
The Louisiana National Guard had delivered three truckloads of water and seven truckloads of MRE's to the Superdome, enough to supply 15,000 people for 3 days.
4444 Army National Guard and 932 Air National Guard are deployed (5,376 total).
President Bush declared a state of emergency in Alabama and Mississippi, and a major disaster in Florida, under the authority of the Stafford Act.