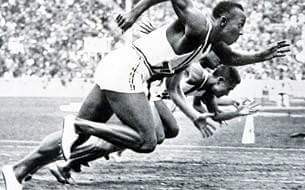 Jesse Owens won the 100m sprint with a time of 10.3, defeating teammate Ralph Metcalfe by a tenth of a second.
This would be the 1st of 4 Olympic Gold Medals he would win at these games, but this Olympic game was bigger than the medals.
Adolf Hitler was using the Olympic games to show the world a resurgent Nazi Germany. He and other government officials had high hopes that German athletes would dominate the games with victories (the German athletes achieved a "top of the table" medal haul).
Meanwhile, Nazi propaganda promoted concepts of "Aryan racial superiority" and depicted ethnic Africans as inferior. Jesse Owens countered this by winning four gold medals.