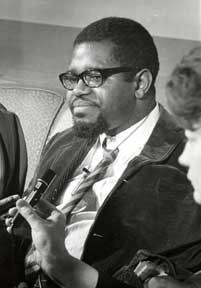 Author Claude Brown wrote "Manchild in the Promised Land," which was published to critical acclaim in 1965. The story is about coming of age during the 1940s and 1950s in Harlem.
Brown was born in New York City, New York on February 23, 1937. While in his youth, he turned to crime. From the age of six, his life involved stealing, alcohol consumption, truancy, and gang wars. These were the harsh realities of life in 1950s Harlem that shaped his childhood. Hoping that a year away from Harlem would benefit him, his parents sent him to live with his grandparents in South Carolina. However, this just made Brown crave the violence of the streets. At the age of 11, he was placed in the Wiltwyck School for Boys, a reform school, located in Esopus, New York. Brown spent a lot of time cycling  in and out of the system.
After reform school, he returned to a life a crime in Harlem. A friend who was getting his life together told Brown about  Reverend William M. James, who was interested in helping young men from the streets get into college. Brown eventually, enrolled at Howard University  where he met writer Toni Morrison.
He had a passion for writing and by graduation was publishing his memoir. The book was a critical and a commercial success, recognized as not just his story but that of an entire generation of African American youth. Brown explained in his book how in the early 20th century, New York was supposed to be the promised land for Black people, but life in Harlem was more challenging than anyone had expected.
His book The Promised Land was followed with a novel, The Children of Ham (1976), about Harlem teenagers struggling against heroin addiction.
He later attracted attention in the 1980s with a series of magazine articles about the epidemic of crack cocaine. He was working on a third book at the time of his death. Claude Brown died February 2, 2002.
sources:
https://www.britannica.com/biography/Claude-Brown
http://www.nytimes.com/2002/02/06/books/claude-brown-manchild-of-the-promised-land-dies-at-64.htm