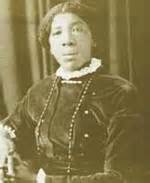 Beulah Rucker Oliver is best remembered for her desire to educate and inspire young black children. During the early 1900s, she established a school for black children that survived until the late 1950s.
Oliver arrived in Gainesville, Georgia in the early 1900s. She was born in 1888 in Banks County, Georgia to Caroline Wiley and Willis Rucker, who were sharecroppers. Oliver was one of eight children. Growing up she studied the newspapers plastered on the wall to keep the family warm. She looked at the letters on the paper, and from that learned the alphabet and how to read.
time she was a little girl that she wanted to be a teacher. When she was five years old, Ms. Rucker attended her first school in a small wooden church in Banks County called Neals Grove. After her first day of school, she came home and told her mother that she wanted to be a teacher. Thus, the dream was born. Ms. Rucker finished county school early and her parents made plans to send her to Athens, Georgia, to attend Jeruel High School, which was run by the American Baptist Missionary Society.
While away at school, Oliver endured hardships due to economic strain. Her parents would send food from home when they could. However, she had to take a job milking two cows in the morning, to help pay for her room and board. She also had to clean for the principals wife. She did that every morning and still managed to get to school before 9:00 a.m.
At some point during her stay in Athens, Oliver began attending Knox Institute, which had been organized in 1868 by the Freedman's Bureau. The American Missionary Association and the  of the students supported the school. Although Oliver had no money for tuition, she was allowed to remain at the school in exchange for work at the school and principal's house. After graduating in 1909, she knew she wanted to start her own school for black children. She worked various jobs saving every penny.
She married Reverend Byrd Oliver during the time she operated the first school near the Southern Railroad crossing. She purchased the site for the Industrial School in 1914, where the school remained until its closing in the 1950s.
sources:
http://www.beulahruckermuseum.org/about-beulah-rucker-2/biography-and-video