By Lestey Gist, The Gist of Freedom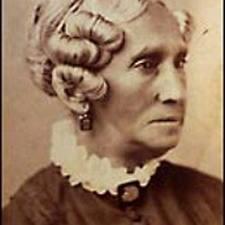 Maria W. Stewart orator, abolitionist, and feminist, ~History, Truth Is A Weapon~
"But before I go (Back To Africa By Force, The Colonization Society), the bayonet shall pierce me through. African rights and liberty is a subject that ought to fire the breast of every free man of color in these United States, and excite in his bosom a lively, deep, decided and heart-felt interest."
Maria Stewart's "Address Delivered at the African Masonic Hall, Boston," (Regarding The Slavers' Colonization Society) (February 27, 1833)
Maria W. Stewart, orator, abolitionist, and feminist, ~ Stewart was born in 1803 and orphaned at the age of five.
Maria W. Stewart established a school for children of families that had escaped from slavery and later became matron of Freedman's Hospital. Stewart is honored with a feast day on the liturgical calendar of the Episcopal Church on December 17.
Click And Learn about Black Abolitionists on The Gist of Freedom~ WWW.BlackHistoryBLOG.com.http://itun.es/i6DW5tR
with Historian Bradley Skelcher, Ty Gray-El and Preston Washington
"The unfriendly whites first drove the native American from his much loved home. Then they stole our fathers from their peaceful and quiet dwellings, and brought them hither, and made bond-men and bond-women of them and their little ones; they have obliged our brethren to labor, kept them in utter ignorance, nourished them in vice, and raised them in degradation; and now that we have enriched their soil, and filled their coffers, they say that we are not capable of becoming like white men, and that we never can rise to respectability in this country. They would drive us to a strange land. But before I go, the bayonet shall pierce me through. African rights and liberty is a subject that ought to fire the breast of every free man of color in these United States, and excite in his bosom a lively, deep, decided and heart-felt interest. "
Sources:
http://www.historyisaweapon.com/defcon1/stewartmason.html
https://www.facebook.com/lesley.Gist/media_set?set=a.4273972932933.2152976.1394470264&type=3&pnref=story&__mref=message_bubble