Tolinar Rex was a pirate whose career ran between the late 1690s and early 1700s. He was the king of pirates around Madagascar at the time. He was born as Abraham Samuel to a Black slave and her owner in Martinique.
EARLY CAREER
The career of Tolinar Rex possibly began in the early or mid-1690s. By 1695 he was a quartermaster for the John and Rebecca in the Caribbean. Given that the area was crowded at the time, Captain John Hoar opted for less populated waters and set sail for the Indian Ocean. This area was where a lot of spices, goods, and riches were originating so leeching off the source seemed like a good course of action for Hoar.
In a streak of bad luck, Hoar's connection with New York-based merchants was killed by the Malagasy. Hoar, who was there for a meeting, was killed as well in the rebellion. Samuel and a couple of others escaped and attempted to return to New York but a storm wrecks the John and Rebecca at Fort Dauphin near Madagascar.
PIRATE KING OF THE MALAGASY
Samuel and several others were found by the Malagasy and their chief. She took over after her husband died and the father of her son, a Frenchman took the child years ago. Believing he's come back to her, she sees him as her son and makes him chief.
Tolinar Rex, his shipwrecked crewmates, and the Malagasy formed a new terrifying pirate crew based around Fort Dauphin in Madagascar. Their business included dealings with slave traders and other pirates. Captain Littleton of Royal Navy met Abraham Samuel and mentioned that he was a high respected chief of the Malagasy.
The name "Tolinar Rex" came about when another pirate attacked a slave ship and sold it to Samuel in late 1699. The signature was "King of Fort Dauphin, Tollannare, Farrawe, Ganquest, and Founzahira." The sale and attack cause some controversy in the area and trading ships steered clear of Fort Dauphin.
It's unknown what became of Abraham Samuel by 1706 but a new chief was in charge of the Malagasy when trade resumed.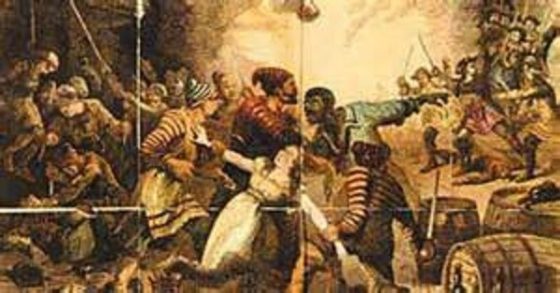 SOURCE
–http://www.goldenageofpiracy.org/infamous-pirates/abraham-samuel.php
–http://www.cindyvallar.com/blackpirates.html