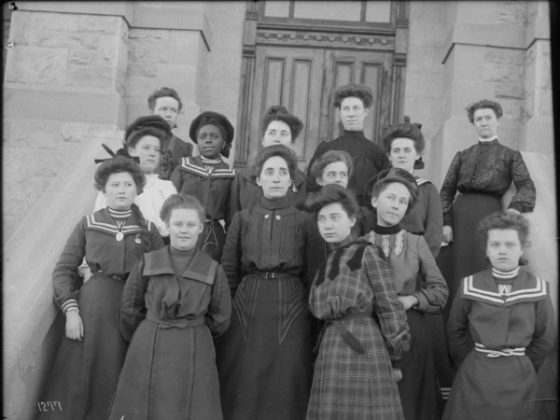 Carrie Burton Overton was the first African American woman to attend the University of Wyoming.
Overton was born in Laramie, Wyoming. Despite what would be the obvious obstacles of growing up in a predominantly white area, she completed her primary education and enrolled at the University of Wyoming in 1903 at the age of 15.
Overton's mother, Katie, was from Missouri where she had been born into slavery and married a man named Carroll. Together they had a son, Benny. Carroll died about 1887; and Katie and son moved to Laramie and took in laundry for a living.
Katie then married John R. Burton and soon Carrie was born. Burton, however, was arrested and convicted for burglary and attempted rape in 1890. He was sent to the federal penitentiary in Illinois.
As a young child, Overton suffered through several very painful experiences. A "fortune teller" molested her at the age of 12. He was subsequently arrested and convicted of his crime. In summer of that same year, her half-brother Benny drowned in the Laramie River. Later an older girl who had stolen money to pay for train tickets talked her into running away to Cheyenne. The two was arrested and returned to Laramie. Burton was released without charges being filed. The family was also subjected to indignities because of their race.
The Laramie newspapers were full of degrading comments about black citizens the entire time Overton lived there and for many years afterwards. In August 1904, the people of Laramie lynched a black man just two blocks from her house, and shot the body when it was hanging from a lamppost.
After four years at UW, Overton was accepted at Howard University in Washington D.C. To help cover the cost of moving, local ladies, with Jane Ivinson, wife of Laramie banker and philanthropist Edward Ivinson, in the lead, sponsored a 1908 fundraising concert for Carrie. Her successful performance received high praise. Dr. Aven Nelson, a well-known botanist and later president of the university, and others at UW encouraged Carrie to attend Howard.
She received a music diploma from Howard in 1913 and, soon after, married George Overton, principal of the "colored schools" in Cumberland, Maryland. The couple, who had no children, moved to New York City in the early 1920s. Working a series of stenography jobs all along—for the NAACP, the Democratic National Committee and the Community Church of New York City—she also continued her musical education. From 1932 to 1941 she studied at the prestigious Julliard School of Music, winning a diploma in piano and a certificate in music theory during that time.
original story found at:
https://www.wyohistory.org/encyclopedia/carrie-burton-overton-first-african-american-female-student-uw