Charlie Christian is one of the all-time greats of jazz guitar who got his start in Oklahoma City when he was a young boy. In order to help his family out with finances, Christian would tag along with his brothers and blind father to some of the more affluent neighborhoods where they'd work as buskers — street musicians/entertainers.
Christian was born in Bonham, Texas. His family moved to Oklahoma City, Oklahoma, when he was a small child. His parents were musicians. He had two brothers, Edward, born in 1906, and Clarence, born in 1911. All three sons were taught music by their father, Clarence Henry Christian. Clarence Henry was struck blind by fever, and in order to support the family he and the boys worked as buskers, on what the Christians called "busts." He would have them lead him into the better neighborhoods, where they would perform for cash or goods. Charles first entertained by dancing when he was old enough to finally go along.
Christian began learning jazz guitar around the age of 12, he would perform in the Deep Deuce area of Oklahoma City to enlivened crowds. By 1936, he was playing electric guitar and had become a regional attraction. He jammed with many of the big-name performers traveling through Oklahoma City, including Teddy Wilson and Art Tatum. He also began playing alongside jazz great Benny Goodman, who was one of the first four bandleaders to play with black musicians.
Christian's solos are frequently described as "horn-like," and in that sense he was more influenced by horn players such as Lester Young and Herschel Evans than by early acoustic guitarists like Eddie Lang and the jazz- and bluesman Lonnie Johnson, although they both had contributed to the expansion of the guitar's role from the rhythm section to a solo instrument. Christian was one of the first inductees into the Oklahoma Jazz Hall of Fame.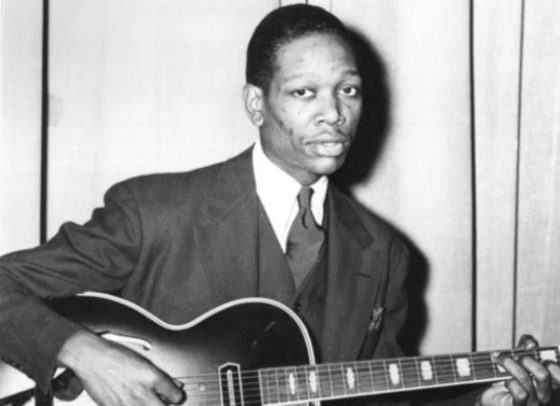 source:
https://en.wikipedia.org/wiki/Charlie_Christian