David Hampton became some sort of a celebrity in the '80s, as he managed to con a number of people, including actress Melanie Griffith and fashion designer Calvin Klein. During the 1980s, Hampton managed to convince a group of wealthy Manhattanites to give him money, food, and shelter, convincing them he was the son of Sidney Poitier.
Hampton was born in Buffalo, New York and was the eldest son of an attorney. He moved to New York City in 1981 and stumbled upon his now-famous ruse in 1983 when he and another man were attempting to gain entry into Studio 54. Unable to obtain entry, Hampton's partner decided to pose as Gregory Peck's son while Hampton assumed the identity of Sidney Poitier's son.
In October 1983, Hampton was arrested and convicted for his frauds and was ordered to pay restitution of $4,490 to his various victims. After his refusal to comply with these terms, he was sentenced to a term of 18 months to 4 years in prison.
Playwright John Guare became interested in Hampton's story through his friendship with Inger McCabe Elliott and Osborn Elliott, who had been outraged to find "David Poitier" in bed with another man the morning after they let him into their home. Six Degrees of Separation opened at the Lincoln Center in May 1990 and became a long-running success.
After the release of the play, Hampton continued to adopt false identities. After the play and film made his original con well-known, Hampton evolved other false identities and traveled extensively to find new victims. Hampton was in and out of prison in numerous states. He continued traveling looking for his next victims to fall for his scam. During the late 199os, he found a large number of men who, even if they'd heard of his notoriety from the East Coast, had never seen his picture or the press, allowing him to move about unnoticed and simultaneously con multiple victims. avid Hampton died of AIDS-related complications while being treated for his illness at Beth Israel Hospital in Manhattan.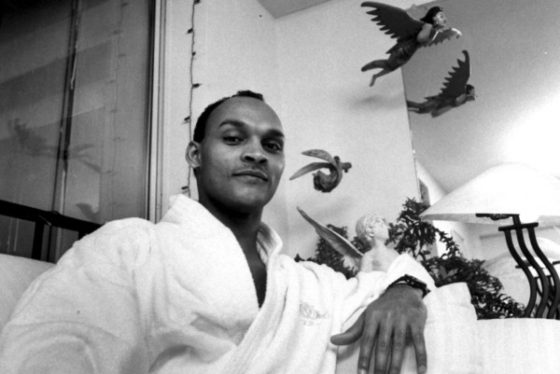 source:
https://www.findagrave.com/memorial/7725795#