Donald Argee Barksdale was an American professional basketball player. He was the first African American to be named NCAA All-American and the first on the United States men's Olympic basketball team. Barksdale was also the first to play in a National Basketball Association All-Star Game.
Born in Oakland, California to Argee Barksdale, a Pullman porter, and Desoree Barksdale. Barksdale attended nearby Berkeley High School, where the basketball coach cut him from the team for three straight years because he wanted no more than one black player.
While unable to play on the basketball team in high school, he honed his playing skills in parks. Barksdale later played for two years at Marin Junior College. Before earning a scholarship to UCLA. A center for the Bruins, he became the first African American to be named consensus All-American in 1947. Barksdale was a member of Alpha Phi Alpha fraternity.
In 1948, he was the first African-American on the U.S. Olympic basketball team. He joined the team in Basketball at the 1948 Summer Olympics and became the first African-American to win an Olympic gold medal in basketball.
Barksdale played for the Oakland AAU team until the NBA began to integrate. While playing professional basketball, he started a career in radio broadcasting. In 1948, he became the first black radio disc jockey in the San Francisco Bay area. In 1951, he signed a lucrative contract with the Baltimore Bullets and entered the NBA as a 28-year-old rookie. He would be one of the first African-Americans to play in the NBA after Nathaniel Clifton, Chuck Cooper, Earl Lloyd and Hank DeZonie had joined the league in 1950. While with the Bullets, he became the first African-American to appear in an NBA All-Star Game, in 1953. Barksdale died on March 8, 1993.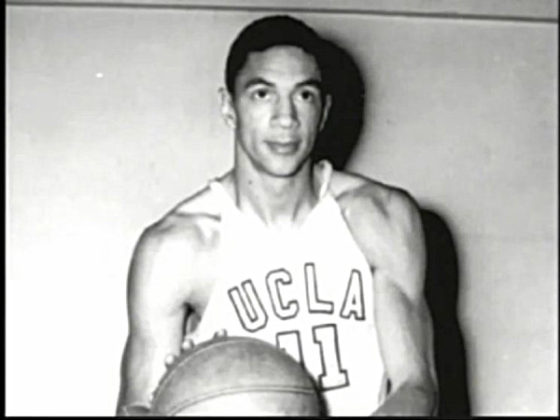 source:
http://www.myblackhistory.net/Don_Barksdale.htm