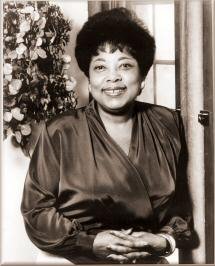 Dorothy Cotton was a pioneer leader in the 1960s civil rights movement. She was the highest-ranked woman of the Southern Christian Leadership Conference (SCLC).
Dorothy Foreman Cotton was born as Dorothy Lee Foreman in Goldsboro, North Carolina, at the beginning of the Great Depression on January 5, 1930. Her mother died when she was three years old, leaving her and three siblings to be raised by their father, Claude Foreman, a tobacco factory worker with only a third-grade education.
While in high school, English teacher Rosa Gray had a positive impact on Cotton. Gray, being the director of the annual school play, often gave Cotton the lead in the school play, which help Cotton feel connected to her teacher. Gray also helped secure a place for Cotton at Shaw University, where she studied English, as well as secured two part-time jobs for Cotton on campus. When Dr. Daniel, a teacher at Shaw was offered a position as the president Virginia State University, Cotton went along and worked as his housekeeper.
Cotton later pursued and earned a master's degree in Speech Therapy from Boston University in 1960. It was in Petersburg that Cotton got involved in a local church led by Wyatt T. Walker. It was also the beginning of her involvement in civil rights activism.
From 1960 to 1968, Dr. Dorothy Cotton was the Education Director for the Southern Christian Leadership Conference (SCLC). In that capacity, she worked closely with Dr. Martin Luther King, Jr. and other civil rights leaders, directing the Citizenship Education Program (CEP). As the Education Director, she was considered one of the highest-ranking women with the SCLC.
She accompanied Dr. King when he received the Nobel Prize for Peace in Norway. Cotton worked along with Septima Clark and Esau Jenkins, via both the Highlander Folk School in Tennessee and the Southern Christian Leadership Conference, to created a grassroots movement in rural southern areas during the 1960s. She also helped James Bevel organize the students during the 1963 Birmingham Movement and its Children's Crusade, and conducted classes in te Citizenship Education Program throughout the South. The Citizenship Education Program had a profound impact on the movement, as over 6,000 men and women participating in workshops and classes to learn about fundamental rights and essential everyday needs.
Besides her hard work and dedication to the civil rights movement, Cotton also possessed a special gift: she was a talented singer and often led negro spirituals at rallies. Cotton was awarded an Honorary Doctor of Humane Letters degree at the University of New England in 1982, at which time she gave the commencement address. On May 16, 1999, Cotton received the Honorary Doctor of Humane Letters from Spelman College in Atlanta, and in 1999, received the Honorary Doctorate Degree from the University of New Rochelle while also delivering the commencement address.
source:
http://www.thekinglegacy.org/individuals/dorothy-cotton