Dr. Samuel DuBois Cook is a retired Dillard University president and, with his appointment to the Duke University faculty in 1966, was the first African American professor to hold a regular faculty appointment at any predominantly white college or university in the South.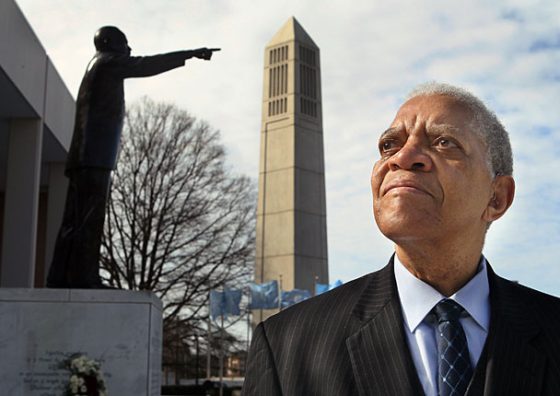 Dr. Cook was born on November 21, 1928, in Griffin, Georgia, to Mary Beatrice Daniel Cook and Reverend M.E. Cook, a Baptist minister who instilled a passion for education in all of his children. Cook attended Griffin Vocational High School and graduated in 1944. He later earned an A.B. degree in history from Morehouse College in Atlanta, Georgia, where he met and was mentored by Dr. Benjamin Mays. Cook then attended Ohio State University in Columbus, Ohio, where he earned his M.A. degree in political science and his Ph.D. in 1954.
He started his professional career as a teacher after a short stint in the U.S. Army. He taught political science at Southern University in Baton Rouge, Louisiana, in 1955. Dr. Cook then moved to Atlanta University, where he began teaching in 1956, and became politically active. He began working on black voter registration and served as youth director of the NAACP of Georgia.
He taught at several other colleges and later became the first black tenured professor at Duke University. He was also the first Black to hold a regular faculty appointment at a predominantly white university in the South.
In 1974, Dr. Cook was chosen as president of Dillard University; he filled this role for 22 years, retiring in 1997. Dr. Cook was credited with beginning the modernization of Dillard University's infrastructure.
In 1993, Dillard University honored Dr. Cook by naming the school's new fine arts and communication center after him. That same year, Cook was elected by Duke University's Board of Trustee as a Trustee Emeritus.
Duke University again honored Dr. Cook with the establishment of the Samuel DuBois Cook Society. Duke University also established a postdoctoral fellowship in his name in 2006.< Dr. Cook is member of Phi Beta Kappa Honor Society. He is a Korean War veteran and a former ordained deacon at White Rock Baptist Church in Durham, North Carolina. He has honorary degrees from Morehouse College, The Ohio State University, Dillard University, Illinois College, Duke University, the University of New Orleans, and Chicago Theological Seminary. He was also appointed to the historic United States Holocaust Memorial Council by President Bill Clinton. sources: http://www.blackpast.org/aah/cook-samuel-dubois-1928 ttps://web.duke.edu/cooksociety/ http://www.thehistorymakers.com/biography/samuel-dubois-cook-41