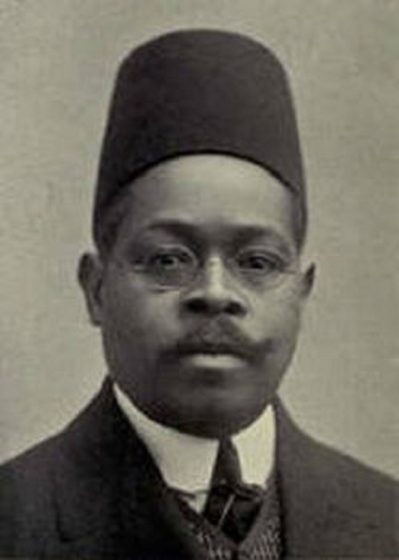 Duse Mohamed Ali was a scholar, playwright, journalist, and African nationalist.
Ali was born in Alexandria, Egypt on November 24, 1866, to an Egyptian father, Ali Abdul Salam and a Sudanese mother, whose name is unknown. At a very young age, Ali was sent to study in England under the tutelage of Captain Duse of the French Army, a classmate who his father had studied alongside at the French Military Academy.
In April of 1882, at the age of fifteen, Ali discontinued his studies and returned to Egypt. Soon after his return both his brother and father were killed during the Urabi Uprising and the British Bombardment of Alexandria that took place later that year.   Soon after the death of his father and brother, his family was evacuated to Sudan. It was then that Ali returned to England to pursue an acting career which would last for twenty-four years.
Ali married in 1902. During the early 1900s, he became frustrated with his acting career due to his being type-casted into various stereotypical roles including most often the black slave and the wicked Muslim.
Despite these roles, Ali was the only English-speaking actor from the Middle East when performing in English theater.
Ali wrote several plays, producing The Jew's Revenge (1903) at the Royal Surrey Theatre in London, A Cleopatra Night (1907) at Dundee, and the Lily of Bermuda (1909), a musical comedy at the Theatre Royal, Manchester.
His production and performance in A Daughter of Judah (1906), which he first produced in the Glasgow Empire Theatre received particularly good reviews.
Mohamed also toured in the United States, where he produced several plays and won recognition as an actor. In London, he founded the Hull Shakespeare Society, of which Sir Henry Irving was the first President. Representing his political interests and considerable British interest in the Orient, he founded the Anglo-Ottoman Society, London. Its members included Lords Newton, Lamington, Stourton, and Mowbray.
sources:
https://en.wikipedia.org/wiki/Dus%C3%A9_Mohamed_Ali