Essie Mae Washington-Williams was an American teacher, writer, and author. However, she is best-known as the oldest biological child of Strom Thurmond, Governor of South Carolina and longtime United States Senator, who is known for his pro-racial segregation policies.
Washington-Williams was born October 12, 1925, to Carrie Butler, a 16-year-old black girl who worked as a household servant for Thurmond's parents. Thurmond was 22 and unmarried when Washington-Williams was conceived. Washington-Williams grew up in the family of one of her mother's sisters, not learning of her biological parents until 1938 when her mother came for a visit and informed Essie Mae she was her mother.
After high school, Washington-Williams worked as a nurse at Harlem Hospital in New York City and took a course in business education at New York University. She did not visit the segregated South until 1942 when she met relatives in Edgefield. After having grown up in Pennsylvania, she was shocked by the racial restrictions of the South.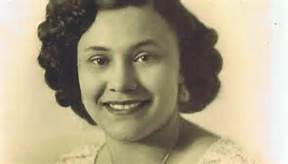 She did not remain in the South instead returned to the north to live with relatives during the war years. After Thurmond returned from World War II, she started college at the all-black South Carolina State College (SCSC) in the Fall of 1947. Thurmond quietly paid for her college education. She met and married future lawyer Julius Williams at SCSC in 1948. Her first child, Julius Williams Jr., was born in 1949. As a result, Essie Mae Washington-Williams dropped out of college in the Summer of 1949 to begin raising the first of her four children.
Over the years, Washington-Williams did discuss racism with her father, who was known for his long-time political support of segregation, he often brushed off her complaints about segregated facilities. But, Washington-Williams did feel she made a significant impact on Thurmond during their private conversations on race and race relations and that Thurmond's policies towards African-Americans were eventually affected.
Washington-Williams did not reveal her biological father's identity until she was 78 years old, after Thurmond's death in 2003. He had paid for her college education and took an interest in her and her family all his life. In 2005, she published her autobiography, which was nominated for the National Book Award and a Pulitzer Prize. However, Strom Thurmond never publicly acknowledged that he was Washington-Williams's father. Washington-Williams died in 2013, she was 87.

Source:
http://articles.latimes.com/2013/feb/04/local/la-me-essie-mae-washington-williams-20130205
https://en.wikipedia.org/wiki/Essie_Mae_Washington-Williams