Faburn DeFrantz spent decades fighting for racial progress in Indianapolis and throughout Indiana. He also served a longtime director of the Senate Avenue YMCA.
DeFrantz moved to Indianapolis in 1913 to become the physical director of the Senate Avenue YMCA. The Y, like many other institutions in the U.S. at the time, was segregated, and black YMCAs were often social and recreational centers for African American communities in large cities. In 1916, when DeFrantz took over the leadership of the Senate Avenue Y as its executive secretary, he and his staff began to transform the branch into what historian Richard Pierce calls the "most significant African American Y in the country.
DeFrantz built the YMCA upon the traditional foundations-after school and on weekends, the building was full of boys and men playing all kinds of sports, many of the adults not only enjoying their own recreation but mentoring the youngsters around them.
DeFrantz transformed the "Monster Meetings", offering opportunities for black audiences to hear educational leaders including Mordecai Johnson, the first black president of Howard University; authors like Lillian Smith and Langston Hughes; politicians including IU Law School Dean and soon-to-be Indiana governor Paul McNutt; and local leaders such as newspaper publisher Eugene Pulliam.
Many of the Monster Meeting speakers took on political topics of the day, including the racial segregation that pervaded the lives of blacks in Indianapolis and across the state and nation. DeFrantz retired from the Y in 1952 but spent the rest of his life working within the community.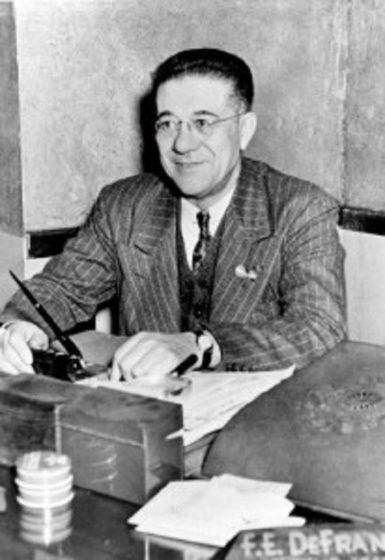 source:
https://scholarworks.iu.edu/journals/index.php/imh/article/view/12693/19023
https://scholarworks.iu.edu/journals/index.php/imh/article/view/12692/19020