Fela Kuti was one of the most prominent figures of the Afrobeat genre. Kuti was Nigerian musician and composer who played a large role in his country's politics.  During the height of his popularity, he was often hailed as one of Africa's most "challenging and charismatic music performers. A figure inspiring and controversial for many, his views on things like polygamy and the role of women in society alienated many while his criticism of authoritarian governments garnered support.
Kuti was born Olufela Olusegun Oludotun Ransome-Kuti onOctober 15, 1938 in Abeokuta, Ogun State, Nigeria into an upper-middle-class family. His mother, Funmilayo Ransome-Kuti, was a feminist activist in the anti-colonial movement; his father, Reverend Israel Oludotun Ransome-Kuti, an Anglican minister and school principal, was the first president of the Nigeria Union of Teachers.
He attended Abeokuta Grammar School. Later he was sent to London in 1958 to study medicine but decided to study music instead at the Trinity College of Music.
In 1967, Kuti went to Ghana to think up a new musical direction. That was when he first called his music Afrobeat. In 1969, Kuti took the band to the United States where they spent 10 months in Los Angeles. While there, he discovered the Black Power movement through Sandra Smith (now Sandra Izsadore), a partisan of the Black Panther Party. The experience would heavily influence his music and political views. He renamed the band Nigeria '70. As a singer, songwriter, saxophonist and bandleader, Kuti's sound casts a long shadow over multifarious streams of modern music, from hip-hop to electronica.
In 1977, Kuti and the Afrika '70 released the album Zombie, a scathing attack on Nigerian soldiers using the zombie metaphor to describe the methods of the Nigerian military. The album was a smash hit and infuriated the government, setting off a vicious attack against the Kalakuta Republic.
Kuti's songs were mostly sung in Nigerian pidgin English, he also performed a few songs in the Yoruba language. His main instruments were the saxophone and the keyboards, but he also played the trumpet, electric guitar, and took the occasional drum solo. Kuti died in 1997.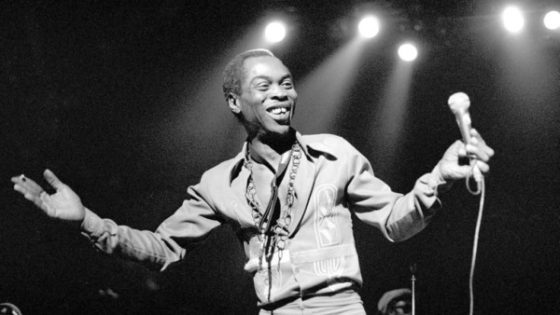 source:
https://en.wikipedia.org/wiki/Fela_Kuti