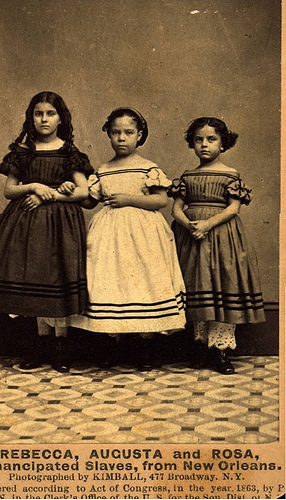 At Black Then, we frequently see interesting photos that give us a glimpse into the past. They tend to show us a piece of black history that is often not covered in textbooks, in history classes, or shown in the media.
In a photo that we found on Black History Album , we see this great image called "The Emancipation of Rebecca, Augusta & Rosa | 1863." . The picture shows Caption: REBECCA, AUGUSTA and ROSA, Emancipated Slaves, from New Orleans. Photographed by Kimball, 477 Broadway, NY. 1863.
These three girls were part of a group of eight former slaves from New Orleans (five children and three adults) sent to the North on a publicity tour to (1) raise money for schools that served former slaves run by abolitionist groups after the Union Army occupied much of Louisiana in 1863, and (2) to arouse the sympathy of countrymen who were preoccupied by war, and more often than not ambivalent on the issue of African-American slavery. One of the major reasons for the great success of this campaign was that four of the children were of mixed race…..but looked white. So much so that the Harper's Weekly ran a story on them titled" "Emancipated Slaves: White and Colored."
These portraits were produced in the format of cartes de visite (CDVs), albumen prints the size of a calling card, and sold for 25 cents each.
Vintage African American photography courtesy of Black History Album, The Way We Were.
Follow Us On Twitter @blackhistoryalb
Found On Flicker.com in Black History Album