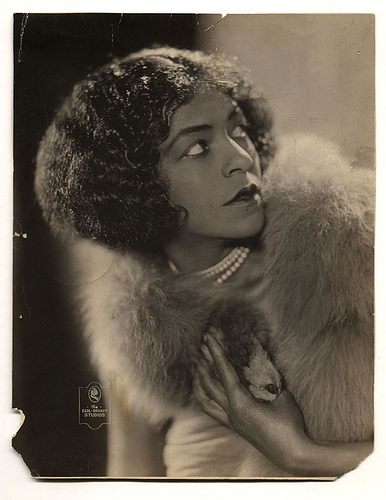 At Black Then, we frequently see interesting photos that give us a glimpse into the past. They tend to show us a piece of black history that is often not covered in textbooks, in history classes, or shown in the media.
In a photo that we found on Black History Album, we see this great image called "Lillyn Brown" . The picture shows Actress Lillyn Brown (1885–1969)], ca. 1920
A veteran of vaudeville and musical theater, Lillyn Brown's show business career began in 1894 when she left her home in Georgia with a traveling minstrel show. Born Lillian Thomas to an African American mother and Iroquois father, Brown initially performed as the "Indian Princess" but soon acquired the role of male impersonator (or "interlocutor") billed as "Elbrown" or "E. L. Brown," developing an act in which she wore top hat and tails, sang several songs as a man, then revealed her long hair and continued singing as a woman. She made her only known gramophone recordings in 1921, backed by her group, the Jazzbo Syncopators. Brown toured Europe, appeared on Broadway, and performed at the major clubs in Harlem and on the Keith Circuit until her retirement in 1934. She resumed her stage career in 1949, with a dramatic role in Regina. In the 1950s, she operated an acting and singing school in Manhattan, taught for many years at the Jarahal School of Music in Harlem (Sugar Ray Robinson was one of her pupils), and was active in the Negro Actors Guild.
Vintage African American photography courtesy of Black History Album, The Way We Were.
Follow Us On Twitter @blackhistoryalb
Found On Flicker.com in Black History Album