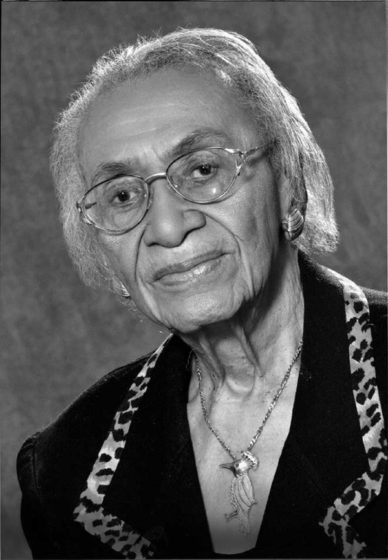 Frankie Muse Freeman is an American civil rights attorney, and the first woman to be appointed to the United States Commission on Civil Rights, a federal fact-finding body that investigates complaints alleging discrimination.
Freeman was born Marie Frankie Muse on November 24, 1916 in Danville, Virginia. Her parents, Maude Beatrice Smith Muse and William Brown Muse, came from college-educated families.
At age sixteen, Freeman enrolled in her mother's alma mater, Hampton Institute, which she attended between 1933 and 1936. While in New York, Freeman met and married Shelby T. Freeman. In 1944, she was admitted to Howard University Law School. She graduated second in her class in 1947.
After college, Freeman opened her own law office in June of 1949. During this time, she also became engaged in the Civil Rights Movement. Freeman was a part of an NAACP legal brain trust, which included Sidney Redmond, Robert Witherspoon and Henry Espy in the NAACP's 1949 Brewton v. the Board of Education of St. Louis, following the case to victory in the Supreme Court of the State of Missouri.
In 1955, she served as the first associate general counsel of the St. Louis Housing Authority and Land Clearance Authority. In 1958, she became a charter member of the Missouri advisory committee to the U.S. Commission on Civil Rights.
Freeman was appointed by President Lyndon Johnson as the first female member of the U.S. Commission on Civil Rights in 1964. Freeman served as a commissioner for sixteen years, and later as Inspector General for the Community Services Administration during the Carter Administration.
Frankie Muse Freeman has received several accolades including honorary doctorate degrees from institutions that include Hampton University, Washington University and Howard University. Freeman also became the 14th National President of Delta Sigma Theta, Sorority Inc. in 1967. She was inducted into the National Bar Association's Hall of Fame in 1990.
sources:
http://www.visionaryproject.org/freemanfrankie/
https://www.nps.gov/features/malu/feat0002/wof/Frankie_Freeman.htm
http://www.howard.edu/secretary/trustees/bios/frankiefreeman.htm