Gale Eugene Sayers was nicknamed "The Kansas Comet." He is a former professional football player who was a running back in the Nation Football League (NFL). In 1965, he was a first-round pick in the NFL Draft and played his entire pro career for the Bears.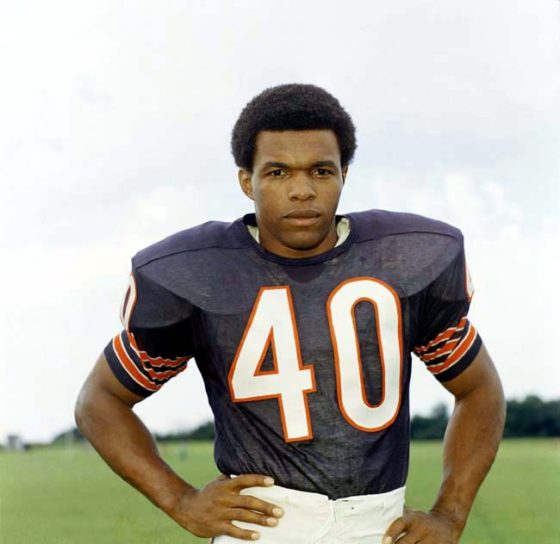 Sayers was born in Wichita, Kansas, but raised in Omaha, Nebraska. He attended Omaha Central High School, where he set a state long jump record. He went on to play college football at the University of Kansas and was a two-time All-American.
In 1963, he set a NCAA Division I record with a 99-yard run against Nebraska. In his senior year, he led the Jayhawks to a 15-14 upset victory over Oklahoma with a 96-yard kickoff return. Sayers is considered by many to have been the greatest open field runner in college football history.
Sayers was drafted by the Chicago Bears in the first round of the 1965 NFL Draft and the Kansas City Chiefs of the American Football League, but he decided to sign with Chicago. In his rookie year, he scored an NFL record of 22 touchdowns (14 rushing, 6 receiving and one each on punt and kickoff returns). With a combination of balance, speed, and instinct, the six-foot 200-pound Sayers established himself as the premier running back of his time.
In 1968, Sayers suffered a knee injury that cut his season short. After surgery, Sayers went through a physical rehabilitation program with the help of friend teammate Brian Piccolo. Sayers' friendship with Piccolo was the basis for the 1971 movie Brian's Song.
In 1970, Sayers experienced another knee injury. Piccolo also died of cancer that year. During this time, Sayers decided to take classes to become a stockbroker. He became the first black stockbroker in his company's history.
He tried to comeback to football in 1971, after his rehabilitation program, but he was not successful. Although Sayers was encouraged to retire, decided to give it one more try. He played his final game was in the 1972 preseason; he retired a couple days later. At 34 years old, he became the youngest inductee into the NFL Hall of Fame in 1977.
Sayers has had a successful career following his retirement from football. He was named the athletic director at Southern Illinois University Carbondale. In 1984, he founded Crest Computer Supply Company. Under Sayers's leadership, the company experienced consistent growth and was renamed Sayers40, Inc.
sources:
http://www.biography.com/people/gale-sayers-9472953
https://en.wikipedia.org/wiki/Gale_Sayers
http://www.pro-football-reference.com/players/S/SayeGa00.htm