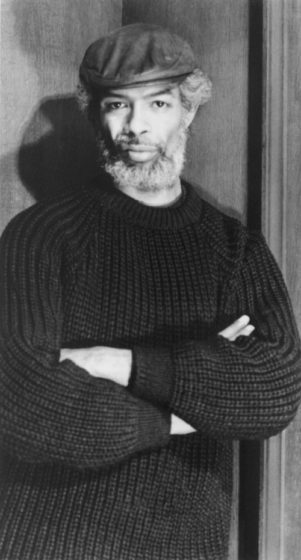 Gilbert "Gil" Scott-Heron was an American soul and jazz poet, musician, and author, known primarily for his work as a spoken-word performer in the 1970s and 1980s.
Scott-Heron was born in Chicago, Illinois. His mother, Bobbie Scott-Heron, was an opera singer who performed with the New York Oratorio Society. Scott-Heron's father, Gil Heron, nicknamed "The Black Arrow", was a Jamaican football player in the 1950s who became the first black man to play for Celtic Football Club in Glasgow.
His parents separated early in his childhood and he went to leave with his maternal grandmother, in Jackson, Tennessee. After the death of his grandmother, at age 12, he returned to live with his mother in The Bronx in New York City. He attended DeWitt Clinton High School, but later transferred to The Fieldston School after impressing the head of the English department with one of his writings and earning a full scholarship.  As one of five black students at the prestigious school, Scott-Heron was faced with alienation and socioeconomic gap.
After high school graduation, he enrolled at Lincoln University in Pennsylvania because Langston Hughes (his most important literary influence) was an alumnus. Scott-Heron met Brian Jackson while at school with whom he formed the band Black & Blues. After about two years at Lincoln, Scott-Heron took a year off to write the novels The Vulture and The Nigger Factory. Scott-Heron was very heavily influenced by the Black Arts Movement.
He never completed his undergraduate degree, however, he was admitted to the Writing Seminars at Johns Hopkins University, where he received an M.A. in creative writing in 1972. His master's thesis was titled Circle of Stone. Beginning in 1972, Scott-Heron taught literature and creative writing for several years as a full-time lecturer at Federal City College in Washington, D.C. while still maintaining his music career.
Scott-Heron began his recording career in 1970 with the LP Small Talk at 125th and Lenox. Bob Thiele of Flying Dutchman Records produced the album, and Scott-Heron was accompanied by Eddie Knowles and Charlie Saunders on conga and David Barnes on percussion and vocals. Scott-Heron's 1971 album Pieces of a Man used more conventional song structures than the loose, spoken-word feel of Small Talk.  He recorded and released four albums during the 1980s: 1980 and Real Eyes (1980), Reflections (1981) and Moving Target (1982).
On July 5, 2006, Scott-Heron was sentenced to two to four years in a New York State prison for violating a plea deal on a drug-possession charge by leaving a drug rehabilitation center. After his parole on May 23, 2007, he began recording again.Scott-Heron released his album I'm New Here on independent label XL Recordings on February 9, 2010. Produced by XL label owner Richard Russell, I'm New Here was Scott-Heron's first studio album in 16 years. Scott-Heron died on the afternoon of May 27, 2011.
sources: