Gloria Davy was a Swiss soprano who had an active international career in operas and concerts from the 1950s through the 1980s. She is credited with being the first black artist to perform the role of Aida at the Metropolitan Opera in New York City in 1958.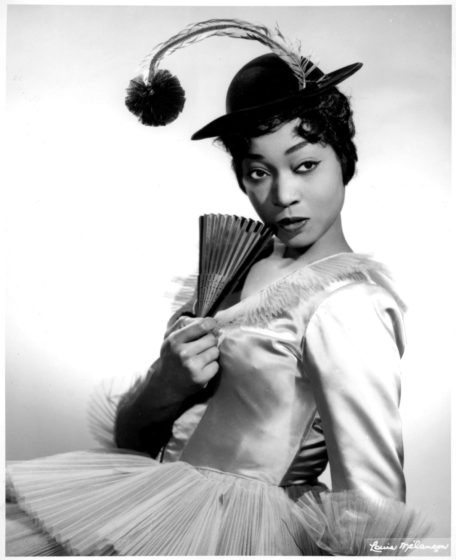 Davy was born in Brooklyn, New York, on March 29, 1931. She was the daughter of immigrants from the island of Saint Vincent. Her father worked as a token clerk in New York.
Davy graduated from The High School of Music & Art in New York City in 1951. She later attended the Juilliard School, where she earned a degree in vocal performance in 1953.
She made her professional stage debut on Broadway as one of the Female Saints in the April 1952 revival of Virgil Thomson's Four Saints in Three Acts at the Broadway Theatre. She returned to Broadway the following October to portray Susie in My Darlin' Aida at the Winter Garden Theatre. In May 1954, she replaced Leontyne Price as Bess in a North American tour of George Gershwin's Porgy and Bess, which was organized by impresarios Robert Breen and his wife Wilva Davis.
Davy met composer and conductor Victor de Sabata when the Porgy and Bess tour reached La Scala in Milan in 1955. Impressed with the young singer, he offered her the title role in Giuseppe Verdi's Aida for a return engagement. Unfortunately, political upheaval in Italy led to the cancellation of her scheduled performance at the opera house, and her first appearance as Aida ended up being at the Opéra de Nice in 1957.
On February 12, 1958, Davy made her debut at the Metropolitan Opera in New York as Aida. She was notably the first black artist to appear as Aida at the opera house, and the 4th black artist to appear on the Met stage after Marian Anderson, Robert McFerrin, and Mattiwilda Dobbs.
From 1961 to 1968, Davy was a resident artist at the Berlin State Opera, where she sang leading roles in operas by Verdi and Puccini, among other composers. During this time, she also appeared as a guest artist at other opera houses throughout Europe. After 1973, her singing career was more focused on concert repertoire, although she still made a few opera appearances. Davy died in 2012, she was 81.
source: