Hallie Quinn Brown was a well-known teacher, writer, and women's activist throughout the Southern U.S. Brown also was one of the founding members of the Colored Woman's League of Washington, D.C., which in 1894 merged with the National Association of Colored Women.
Brown was born on March 10, 1850, in Pittsburgh, Pennsylvania, and was the daughter of former slaves who migrated to Ontario, Canada, in 1864. As a young girl, Brown had an interest in public speaking. She attended Wilberforce College and graduated in 1873. She then taught in schools for free Black Americans in Mississippi before moving to Columbia, South Carolina, where she served briefly as an instructor in the city's public schools.
By September 1875, Brown joined the faculty at Allen University. She taught at the university between 1875 and 1885 before serving as the Dean for two years. Brown also served as Dean of Women at Tuskegee Institute during the 1892-1893 school year before moving to Ohio to teach in the Dayton public schools.
She spoke at the Republican National Convention in 1924, and later directed campaign work about black women for President Calvin Coolidge. Brown was inducted into Delta Sigma Theta as an honorary member. Published works by Brown include, Bits and Odds: A Choice Selection of Recitations (1880), First Lessons in Public Speaking (1920), and Homespun Heroines and Other Women of Distinction, with an introduction by Josephine Turpin Washington. Brown died on September 16, 1949, at the age of 100.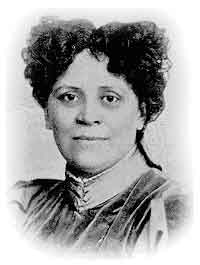 source:
http://www.blackpast.org/aah/brown-hallie-quinn-1850-1949
http://womenshistory.about.com/od/aframer18631900/p/hallie_brown.htm