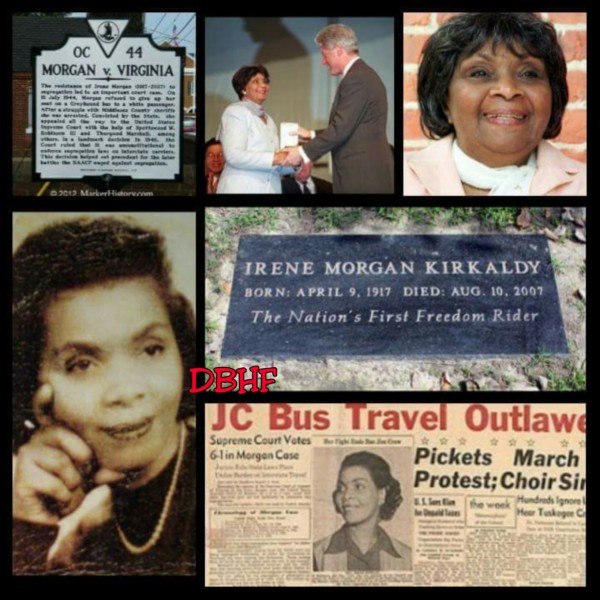 Irene Morgan, later known as Irene Morgan Kirkaldy, was an African-American woman who was arrested in Middlesex County, Virginia, in 1944 for refusing to give up her seat on an interstate bus according to a state law on segregation.
THE BUS INCIDENT & ARREST: In 1944, the 27-year-old Irene Morgan was traveling to Baltimore, Maryland when she was arrested and jailed in Virginia for refusing to sit in a segregated section on an interstate Greyhound bus. 
Although interstate transportation was supposed to be desegregated, the state enforced segregated seating within its borders.
The bus driver stopped in Middlesex County, Virginia, and summoned the sheriff.When he tried to arrest Morgan, she tore up the arrest warrant, kicked the sheriff in the groin, and fought with the deputy who tried to pull her off the bus. 
Morgan was convicted of violating state law for segregation on buses and other public transportation. Morgan pled guilty to the charge of resisting arrest and was fined $100. However, she refused the guilty plea for violating Virginia's segregation law.
Irene Morgan appealed her case. After exhausting appeals in state courts, she and her lawyers took her case on constitutional grounds to the federal courts, all the way to the U.S. Supreme Court.
In 1946, the justices agreed to hear the case.
Read about the Supreme Court decision at: Daily Black History Facts