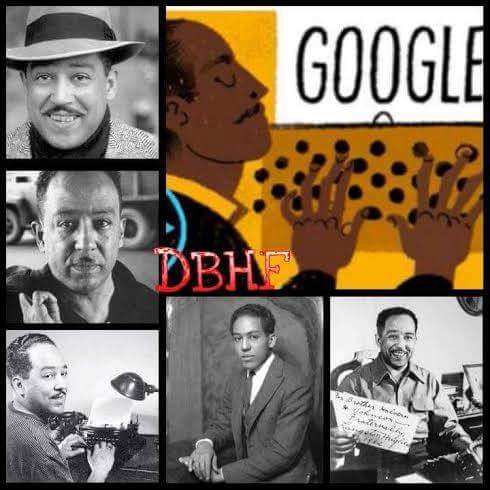 James Mercer Langston Hughes was a poet, social activist, novelist, playwright, and columnist. He was one of the earliest innovators of the then-new literary art form called jazz poetry.
Hughes is best known as a leader of the Harlem Renaissance. He famously wrote about the period that "the negro was in vogue", which was later paraphrased as "when Harlem was in vogue".
AWARDS & HONORS: 📚1926: Hughes won the Witter Bynner Undergraduate Poetry Prize.
📚1935: Hughes was awarded a Guggenheim Fellowship, which allowed him to travel to Spain and Russia.
📚1941: Hughes was awarded a fellowship from the Rosenwald Fund.
📚1943: Lincoln University awarded Hughes an honorary Litt.D.
📚1954: Hughes won the Anisfield-Wolf Book Award.
📚1960: the NAACP awarded Hughes the Spingarn Medal for distinguished achievements by an African American.
📚1961: National Institute of Arts and Letters.
📚1963: Howard University awarded Hughes an honorary doctorate.
📚1964: Western Reserve University awarded Hughes an honorary Litt.D.
📚1973: the first Langston Hughes Medal was awarded by the City College of New York.
📚1979: Langston Hughes Middle School was created in Reston, Virginia.
📚1981: New York City Landmark status was given to the Harlem home of Langston Hughes at 20 East 127th Street by the New York City Landmarks Preservation Commission and 127th Street was renamed Langston Hughes Place.
📚The Langston Hughes House was listed on the National Register of Historic Places in 1982.
📚2002: The United States Postal Service added the image of Langston Hughes to its Black Heritage series of postage stamps.
📚2002: scholar Molefi Kete Asante listed Langston Hughes on his list of 100 Greatest African Americans.
📚2015: Google Doodle commemorated his 113th birthday.
Read more stories like this at: Daily Black History Facts