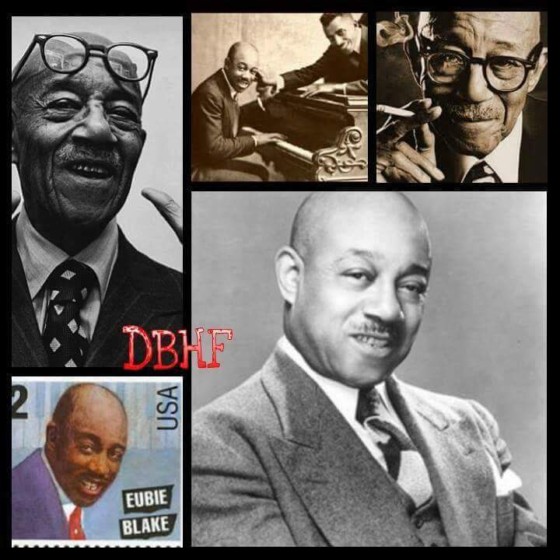 James Hubert Blake, better known as Eubie Blake, was an composer, lyricist, and pianist of ragtime, jazz and popular music.
In 1921, Blake and long-time collaborator Noble Sissle wrote the Broadway musical Shuffle Along, one of the first Broadway musicals to be written and directed by African Americans.
Blake's compositions included such hits as, "Bandana Days", "Charleston Rag", "Love Will Find A Way", "Memories of You", and "I'm Just Wild About Harry". The musical Eubie! featured the works of Blake and opened on Broadway in 1978.
HONORS & AWARDS:
●1969: Eubie Blake's nomination for a Grammy Award for The 86 Years of Eubie Blake in the category of "Best Instrumental Jazz Performance, Small Group or Soloist with Small Group".
●1972: Omega Psi Phi Scroll of Honor
●1974: Diploma, Rutgers University Doctor of Fine Arts
●1974: Diploma, Dartmouth College, Doctor of Humane Letters
●1978: Diploma, University of Maryland Doctor of Fine Arts
●1979: Diploma, Morgan State University Doctor of Music
●1980: Received the Johns Hopkins University's, George Peabody Medal
●1981: Received the Presidential Medal of Freedom on October 9, 1981, awarded by President Ronald Reagan.
●1982: Diploma, Howard University Doctor of Music
●1983: Inducted in the Big Band and Jazz Hall of Fame
●1995: The United States Postal Service issued a stamp in his honor.
●1995: Inducted into the New York's American Theatre Hall of Fame.
●1998: James Hubert Blake High School was built in Cloverly, Maryland in his honor. Eubie Blake HS has a strong focus on the performing arts.
●2006: The album The Eighty-Six Years of Eubie Blake (1969) was included by the National Recording Preservation Board in the Library of Congress' National Recording Registry. The board selects songs in an annual basis that are "culturally, historically, or aesthetically significant."
Read more stories like this at: Daily Black History Facts