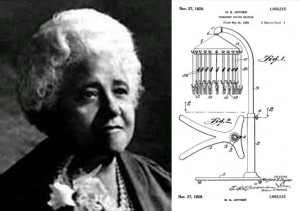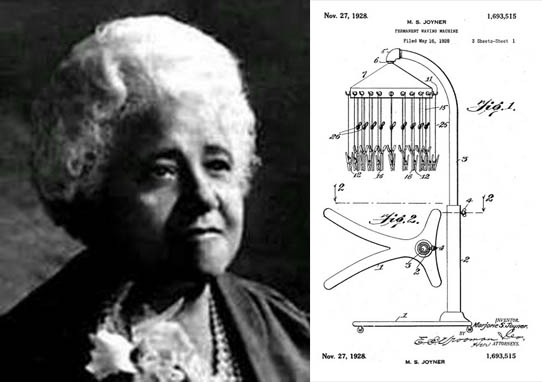 Marjorie Stewart Joyner was born in Monterey, Virginia on October 24, 1896, the granddaughter of a slave and a slave-owner. In 1912, an eager Marjorie moved to Chicago, Illinois to pursue a career in cosmetology. She enrolled in the A.B. Molar Beauty School and in 1916 became the first #Black women to graduate from the school. Following graduation, the 20 year old married podiatrist Robert E. Joyner and opened a beauty salon.
A dilemma existed for Black women in the 1920′s. In order to straighten tightly-curled hair, they could so so only by using a stove-heated curling iron. This was very time-consuming and frustrating as only one iron could be used at a time. In 1926, Joyner set out to make this process faster, easier and more efficient. She imagined that if a number of curling irons could be arranged above a women's head, they could work at the same time to straighten her hair all at once. According to the Smithsonian Institute, Joyner remembered that "It all came to me in the kitchen when I was making a pot roast one day, looking at these long, thin rods that held the pot roast together and heated it up from the inside. I figured you could use them like hair rollers, then heat them up to cook a permanent curl into the hair." Thus, she sought a solution to not only straighten but also provide a curl in a convenient manner.
Joyner developed her concept by connecting 16 rods to a single electric cord inside of a standard drying hood. A women would thus wear the hood for the prescribed period of time and her hair would be straightened or curled. After two years Joyner completed her invention and patented it in 1928, calling it the "Permanent Waving Machine." She thus became the first Black woman to receive a patent and her device enjoyed enormous and immediate success. It performed even better than anticipated as the curl that it added would often stay in place for several days, whereas curls from standard curling iron would generally last only one day.
Read More Of This Article @http://blackinventor.com/marjorie-joyner/