James Hampton was an African-American janitor who secretly built a large assemblage of religious art from scavenged materials; he was considered a folk artist.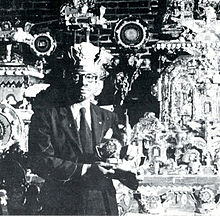 Hampton was born in Elloree, South Carolina, in 1909. His father was a gospel singer and a traveling Baptist preacher. In 1928, Hampton left for Washington DC, to join his elder brother Lee, where they shared an apartment. James Hampton worked as a short-order cook until 1942 when he was drafted into United States Army Air Forces. He served as a carpenter with the noncombatant 385th Aviation Squadron around the Pacific theatre. He was honorably discharged in 1945 and returned to Washington DC.
Hampton was a reclusive person. He had few friends and spent most of his time working in a garage he had rented in northwest Washington. He was quite humble but often referred to himself as "St James." Hampton attended various churches in Washington and expressed an interest in finding a "holy woman" to assist with his life's work. Yet, Hampton never married and much of his personal life remains a mystery. Details of the artist only became public when his sister arrived to claim his body, the Washington Post then printed a story about him on December 15, 1964.
Hampton rented a garage in northwest Washington in 1950. A month after Hampton's death in 1964, Meyer Wertlieb, owner of the garage, came to find out why the rent had not been paid. He knew that Hampton had been building something in the garage. When he opened the door, he found a room filled with many symmetrical, glittering objects surrounding a central throne. For 14 years, Hampton had been building a throne out of various old materials like aluminum and gold foil, old furniture, various pieces of cardboard, old light bulbs, shards of mirror and old desk blotters. He had pinned it together with tacks, glue, pins and tape. The throne was for Christ's second coming. A hand-lettered sign over the throne proclaims "Fear Not."  Hampton died November 4, 1964; he was 55.
source:
http://aaregistry.org/historic_events/view/james-hampton-was-great-folk-artist