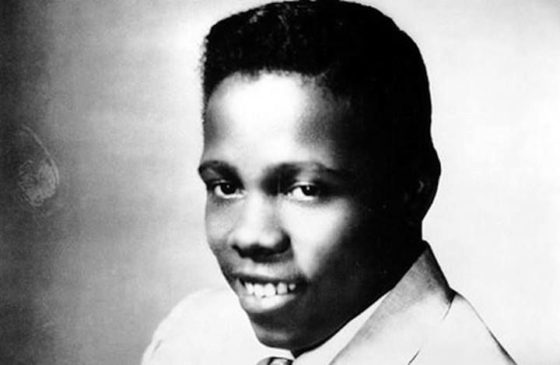 Johnny Ace was a rhythm and blues singer who had a string of hit singles in the mid-1950s. Born as John Marshall Alexander, Jr. in Memphis, Tennessee, he was the son of a preacher. After serving in the U.S. Navy during the Korean War, he joined Adolph Duncan's Band as a pianist. He then joined the B. B. King band. Soon after, King departed for Los Angeles, and the band's singer, Bobby Bland, joined the army. Therefore, Alexander took over vocal duties and renamed the band the Beale Streeters. He also took over King's radio show on WDIA.
He began performing as Johnny Ace and signed with Duke Records. His first recording, "My Song," was an urban "heart" ballad that stayed at the top of the R&B chart for nine weeks. He toured with Willie Mae "Big Mama" Thornton and had eight more hits, including "Cross My Heart," "Please Forgive Me," "The Clock," "Yes, Baby," "Saving My Love for You," and "Never Let Me Go."
After touring for a year, Ace performed at the City Auditorium in Houston, Texas, on Christmas Day 1954. During a break between sets, he was playing with a .22-caliber revolver. Members of his band said he did this often, sometimes shooting at roadside signs from their car. It was reported that, during a game of Russian roulette, Ace killed himself. However, there were different stories told about what happened.
Ace's "Pledging My Love" was a posthumous R&B number one hit for ten weeks, beginning February 12, 1955. His death created a huge demand for a record, as Ace was only 25 when he died.
source: