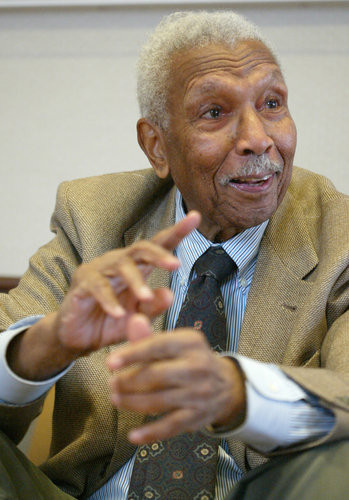 Robert Lee Carter was an civil rights activist and a US District Judge. As a general counsel of the NAACP, he argued and won NAACP v. Alabama (1958) (overturning attempts to gather NAACP membership lists) and Gomillion v. Lightfoot (1960) (stopping racial gerrymandering in Tuskegee, Alabama) in the United States Supreme Court.
Carter was born on March 11, 1917, in Caryville, Florida. As part of the Great Migration of southern blacks moving north, his mother Annie Martin Carter took him (just six weeks old) and his siblings to Newark, New Jersey, where his father, Robert L. Carter Sr., was working.
Carter graduated from Barringer High School in Newark at the age of 16 after skipping two grades. He earned his undergraduate degree in Political Science from Lincoln University in Pennsylvania, and his law degree from Howard University School of Law in 1940. He also earned his LLM from Columbia Law School in 1941, after writing an influential master's thesis that would later redefine the NAACP's legal strategy.
Carter's activism began during his high school years, after he read that a state court had ruled against racially discriminatory practices as that high school's only allowing black students to use the swimming pool on Fridays, and entered the pool with white students, defying a teacher's threats. The school chose to close down its pool rather than integrate it.
He joined the United States Army Air Corps a few months before the United States entered World War II. Upon entering the Army he was met by a white captain's welcoming him to the Augusta, Georgia station by telling him that they did not believe in educating black people, which made Carter militant. Nonetheless, Carter completed Officer Candidate School and received a commission as lieutenant. As the only black officer at Harding Field in Baton Rouge, Louisiana, Carter integrated the officer's club, to the consternation of many. He then transferred to Columbus, Ohio, but continued to face hostility based on his race.
In 1944, Carter began working at the NAACP Legal Defense and Educational Fund, and the following year he became an assistant special counsel at the LDF. By 1948, Carter had become a legal assistant to Thurgood Marshall.
In 1956, Carter succeeded Thurgood Marshall as the general counsel of the NAACP.  Carter wrote numerous law review articles and essays on civil rights and about discrimination in the United States, particularly school segregation, and of his longtime friends and colleagues, Thurgood Marshall and Charles Hamilton Houston. Judge Robert Lee Carter died in a Manhattan hospital in 2012.
sources: