June 26, 1956: Clifford Brown died in a car accident, he was only 25 years old.
Immediately following a performance at a Philadelphia record store, Brown and Richie Powell embarked on a drive to Chicago for their next appearance. Powell's wife Nancy was at the wheel so that Clifford and Richie could sleep. While driving at night in the rain on the Pennsylvania Turnpike, west of Bedford, she lost control of the car and it went off the road. All three were killed in the resulting crash.
Brown is buried in Mt. Zion Cemetery, in Wilmington, Delaware.
Clifford Brown aka "Brownie," was an influential and acclaimed jazz trumpeter. When he died, he left behind only 4 years' worth of recordings. Nonetheless, he had a considerable influence on later jazz trumpet players, including Donald Byrd, Lee Morgan, Booker Little, Freddie Hubbard, Woody Shaw, Valery Ponomarev, Wallace Roney, and many others. He was also a composer of note: two of his compositions, "Joy Spring" and "Daahoud", have become jazz standards.
He won the Down Beat critics' poll for the "New Star of the Year" in 1954; he was inducted into the Down Beat "Jazz Hall of Fame" in 1972 in the critics' poll.
LEGACY:
?Benny Golson, who had done a stint in Lionel Hampton's band with Brown, wrote "I Remember Clifford" to honour his memory. The piece became a jazz standard, as musicians paid tribute by recording their own interpretations of it.
?Helen Merrill, who recorded with Brown in 1954 (Helen Merrill, EmArcy), recorded a tribute album in 1995 entitled Brownie: Homage to Clifford Brown. The album features solos and ensemble work by trumpeters Lew Soloff, Tom Harrell, Wallace Roney, and Roy Hargrove.
?Arturo Sandoval's entire second album after fleeing from his native Cuba, entitled I Remember Clifford, was likewise a tribute to Brown.
?Each year Wilmington, Delaware hosts the Clifford Brown Jazz Festival.
?Brownie Speaks, a video documentary, is the culmination of years of research by Wilmington-born jazz pianist Don Glanden, research that has included interviews with Brown's friends, family, contemporaries, and admirers. Glanden's son Brad edited these interviews, along with archival materials and newly shot video footage. The documentary premiered in 2008 at the "Brownie Speaks" Clifford Brown Symposium hosted by The University of the Arts. The three-day symposium featured performances from close friends and bandmates of Brown such as Benny Golson and Lou Donaldson and other prominent artists inspired by Brown, including Marcus Belgrave, Terence Blanchard, and John Fedchock.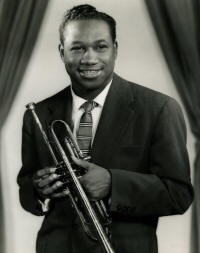 Finish Reading The Originally Post on
Daily Black History Facts