BY WALTER OPINDE
On this day, 8th June, 1925, the United States Supreme Court incorporated the Freedom of Speech Clause into the 14th Constitutional amendment.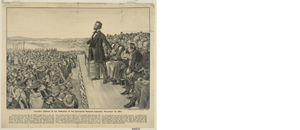 On this date, in a historic decision by the U.S. Supreme Court, during the case of Gitlow v. New York, the Court held that the Due Process Clause of the 14th Amendment incorporated the Freedom of Speech and Free Press Clauses of the First Amendment, thereby making them applicable to the states. This historic decision launched the process of incorporating the provisions of the Bill of Rights into the 14th Amendment, which became the foundation of the progression of the constitutional protection of civil liberties and civil rights revolutions in the subsequent decades. This court ruling gave an immense boost to the civil rights advocacy, in particular, by those from the black community since everyone could finally express his/her opinion freely and publicly without being forbidden by any constitutional law. African-Americans could freely express their grievances without any fear or favor.
In this historic case, a member of the Communist Party, Benjamin Gitlow, had been arrested on the first night of the first set of the notorious Palmer Raids on7th November, 1919. He was charged with the act of violating the New York State Criminal Anarchy Act by distributing a document that was titled "The Left Wing Manifesto." Consequently, Benjamin appealed his conviction to the U.S. Supreme Court. The Supreme Court upheld Gitlow's conviction and the constitutionality of the Criminal Anarchy Act. However, in a major advance for civil liberties, the Court incorporated the "Freedom of Speech" and "Freedom of the Press Clauses" of the First Amendment into the 14th Amendment, thereby making them applicable to all the states. The principle of this incorporation became the basis for the civil rights and civil liberties revolutions during the 20th century.
Remarkably, Gitlow and his four co-defendants were less interested in appealing their convictions; however, Gitlow was later persuaded to appeal his case by Mr. Pollak Walter of the ACLU, who had a great interest in establishing new defenses for the political speech. Equally remarkable, Justice Sanford Edward asserted the incorporation doctrine in a single sentence. He did not hesitate to refer from any to prior related cases or the history of the 1st or 14th Amendments subsequently, Benjamin Gitlow's career took some strange twists; he became a member of the Communist Party, but later abandoned his radical sentiments thereby becoming a staunch anti-Communist.
Read more of the related story from: https://constitutioncenter.org/blog/10-huge-supreme-court-cases-about-the-14th-amendment
Sources
Loveland, Ian (2002). "Chapter 18 – Human Rights I: Traditional Perspectives". Constitutional Law, Administrative Law, and Human Rights: A Critical Introduction (Seventh Ed.). London: Oxford University Press.
Jayawickrama, Nihal (2002). The Judicial Application of Human Rights Law: National, Regional and International Jurisprudence. Cambridge: Cambridge University Press.