LaVilla is a neighborhood of Jacksonville, Florida. It was Jacksonville's first suburb, annexed by the city in 1887 and now considered part of downtown. During its height, the area was considered "the mecca for African American culture and heritage" in Florida, particularly its northern sections.
In the first half of the 20th century, the neighborhood was an important center of African-American culture. A vibrant music and entertainment scene emerged, attracting many nationally renowned jazz artists to play at local black clubs on and off Ashely Street. Such clubs were segregated under the state laws that imposed Jim Crow. In 1929, the Ritz Theatre opened, becoming an important stop on what was called the Chitlin' Circuit for black entertainers. It became LaVilla's primary performance venue.
The town developed as a suburb to Jacksonville. At different points in the American Civil War, when Jacksonville and northeastern Florida were under Union control, the area was the site of a large Union garrison. Many slaves sought refuge with Union troops and, under the Emancipation Proclamation of 1863, gained freedom. After the war, the town attracted additional freedmen, some of whom left rural areas, and was incorporated as LaVilla. The population was mostly black, and during the Reconstruction era (United States), many blacks were elected to positions in Lavilla's government, including mayor and councilmen.
In 1887, LaVilla and five other suburbs, including Riverside and Springfield, were annexed by the City of Jacksonville. It became a neighborhood of the city. In 1902, the state legislature passed a new constitution, adopting barriers to voter registration and voting that resulted in the deliberate disfranchisement of African Americans and excluding them from politics.
Lavilla was the site of the Great Fire of 1901, which spread and destroyed most of downtown, but the neighborhood was largely spared.
After the 1960s, the neighborhood entered a period of decline. The railroad industry restructured, leading to a massive loss of jobs here and across the country. In addition, the construction of I-95 disrupted and divided the neighborhood. With the end of legal segregation following civil rights legislation in the mid-1960s, many residents left the area.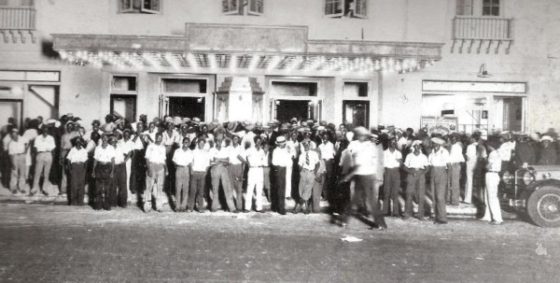 source:
https://www.news4jax.com/news/local/10-facts-about-jacksonvilles-black-history