Although plantations were designed for work, they quickly became critical locations for the family and social lives of enslaved people. On the plantation, slaves usually had a house of their own for their families. The homes were built in a circle and very close together, but those who want their homes to set away from other slaves could have built their home a distance away from the others.
Families lived in tiny one-room residences with a dirt-lined floor. No matter how many children there were, everyone lived, cooked, ate, and slept together, all in that one room.
Slave huts were usually unstable. During storms, the huts would be swept away or severely damaged. Planters, however, would allow slaves time to repair their homes.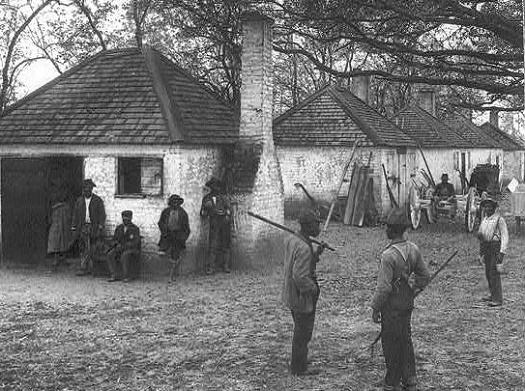 Slave huts were reported as being smoky, damp, and cold, causing the majority of slave ailments. There was limited amount of furniture, usually a bedding area where slaves slept on straw or an elevated hard surface covered with straw, and perhaps a small table. Blanket provisions were usually just big enough to cover one person from shoulder to toe. It could have been difficult for everyone in the small hut to get enough sleep because of the tight living quarters.
After work was done, the slaves would smoke, sing, tell ghost stories, dance, play music with homemade fiddles. Saturday was work day like any other day. We had all legal holidays. Christmas morning we went to the big house and got presents and had a big time all day. At corn shucking all the slaves from other plantations would come to the barn, the fiddler would sit on top of the highest barrel of corn, and play all kinds of songs. When we wanted to meet at night we had an old conk, we blew that. We all would meet on the Potomac River and sing across the river to the slaves in Virginia, and they would sing back to us. — James V. Deane, enslaved in Maryland
The slave family was part of a wider slave community, which eventually evolved into its own cultural patterns. Customs were derived not merely from the immediate plantation, but also from memories and survivals of Africa.
source:
http://www.ushistory.org/us/5e.asp