Martini Maccomo was a renowned lion tamer in Victorian Britain. Maccomo was born in Angolo, but some records report him as being born Arthur Williams from the West Indies. His year of birth is unclear but at his time of death, he was around 32.
Maccomo joined William Manders' Grand National Mammoth Menagerie (later known as Manders' Royal Menagerie, and later still as The Grand National Star Menagerie) in late 1857 at Greenwich Fair.
Advertisements for Manders' shows were well publicized in national newspapers, where Maccomo was given the titles as "The African Wild Beast Tamer," "Angolo's Mighty Czar of All Lion Tamers," and the "Black Diamond of Manders' Menagerie."
In Maccomo's act, he used knuckledusters, whips, and pistols. In 1860, while performing at Great Yarmouth, a lion attacked Maccomo and his pistol was accidentally fired out into the audience, injuring a local carpenter.
In 1869, Maccomo was attacked by a lion named Wallace while performing at Sunderland. The lion died about four years after Maccomo and was bought by Sunderland Museum. Maccomo died in 1871 from rheumatic fever.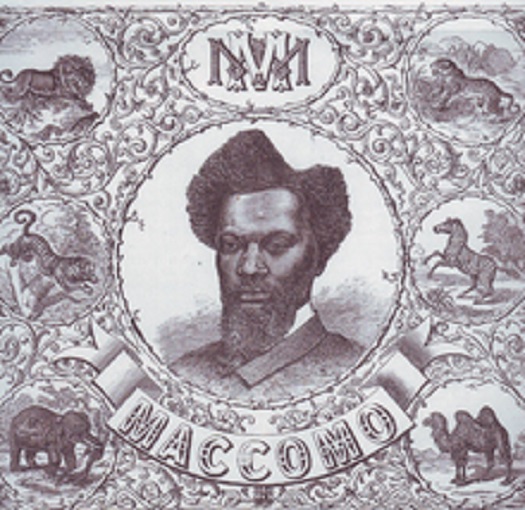 source:
http://www.sunderlandecho.com/history-nostalgia/the-daredevil-lion-tamer-laid-to-rest-among-sunderland-s-heroes-1-6019850