In the South, many Blacks lived in poverty as sharecroppers who very seldom owned their own land. These individuals were limited with career opportunities because they did not have the education needed to get ahead. Of course, they were also being discriminated against because of race and white competition. These individuals were also excluded from white owned businesses and unions. Salary jobs and trade work were only given to white men and European immigrants. A large percentage of Black men worked as servants or waiters. To create more opportunities, Booker T. Washington established the "National Negro Business League" in 1900. The organization encouraged blacks to open their own businesses and employ other African Americans. This "League" allowed skilled blacks to be recognized for their talents. It was incorporated in 1901.
Members in the league included small business owners, farmers, doctors, lawyers, craftsmen, and other professionals. The league maintained directories for all major US cities and incorporated African American contacts in numerous businesses. Although the league primarily expanded many black business networks and fostered a vibrant business community for African Americans, it also had very key direct and indirect connections with white businesses and corporations.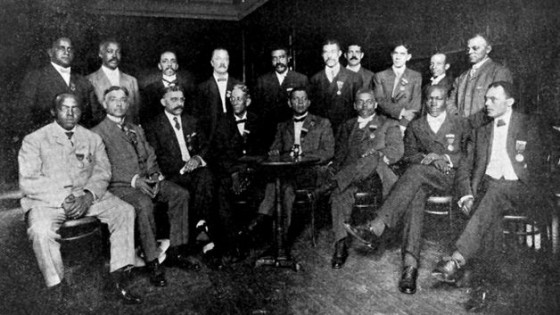 The League operated through state and local chapters, many of which were located in the South. League meetings were held to allow small businessmen to make contact with each other, and share stories of their struggles and successes. The league had financial support from white businessmen. Washington used his social and financial access to powerful leaders of the white business elite, including steel mogul Andrew Carnegie, and Julius Rosenwald, head of the Sears, Roebuck mail-order company to support him.
source:
http://memory.loc.gov:8081/ammem/amrlhtml/dtnegbus.html