Oak Bluffs, Massachusetts has long been referred to as the "Black Hamptons." It is the most famous and enduring black beach resort. Several prominent black leaders have vacationed at the resort including Harlem Congressman Adam Clayton Powell Jr,. in the 1940s and in more recent years, former President Barack Obama.
Oaks Bluffs, is an integrated village on the island of Martha's Vineyard. It has been a place for generations of black artists, intellectuals, and their families to visit for years. The village was once a Methodist summer retreat where anti-racism sermons were preached. It has drawn blacks since the 1800s. Many blacks who first arrived to the village came as servants to wealthy white families. Others worked in the hotels.
Eventually, elite blacks from New York, Boston and Washington retreated to the village for summer vacations, many buying houses in an area called the Oval or the Highlands, which Harlem Renaissance writer Dorothy West wrote about toward the end of her career in her 1995 novel, "The Wedding."
There are four public beaches in the town: Eastville Beach, facing Vineyard Haven Harbor and adjacent to the entrance to Lagoon Pond; Oak Bluffs Town Beach or The" Inkwell" is the name of the popular beach frequented by African Americans beginning in the late nineteenth century. The strand was pejoratively called "The Inkwell" by nearby whites in reference to the skin color of the beach-goers.
Oaks Buff is one of the island's principal points of arrival for summer tourists, and is noted for its "gingerbread cottages" and other well-preserved mid to late-nineteenth-century buildings.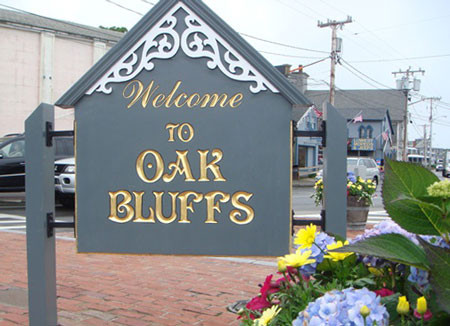 sources:
http://www.cbsnews.com/news/marthas-vineyard-oak-bluffs-smithsonian-national-museum-of-african-american-history-and-culture/