The Oklahoma City Blue Devils were a pioneer band with a legendary reputation among musicians in the Southwest. The band was established in 1923, accompanying Billy King's road show, "Moonshine," at the Aldridge Theatre in Oklahoma City. The group also performed for both white and African- American audiences from Texas to the Dakotas until stranded in Bluefield, West Virginia.
Their musical leader was Walter Page. The Billy King Road Show disbanded in 1925 in Oklahoma City where Page kept the band intact and renamed it – some say it was "Walter Page's Original Blue Devils," and others contend it was the "Oklahoma City Blue Devils." Page expanded the band from its original nine members to as many as 15 members.
Early bandsmen included Oran "Hot Lips" Page and James Simpson on trumpets; Ted Manning and Buster Smith on reeds; Willie Lewis on piano; Reuben Lynch on guitar; Edward McNeil on drums; Walter Page on bass, tuba, and baritone sax; and Ernie Williams on vocals.
The band trumped nearly every opponent it faced in battle of the bands competitions, except for the older Bennie Moten band, which eventually absorbed most of the Blue Devils, including Page. The 1979 film The Last of the Blue Devils documents a musical reunion with Basie, Big Joe Turner and other figures from the history of southwestern and Kansas City jazz.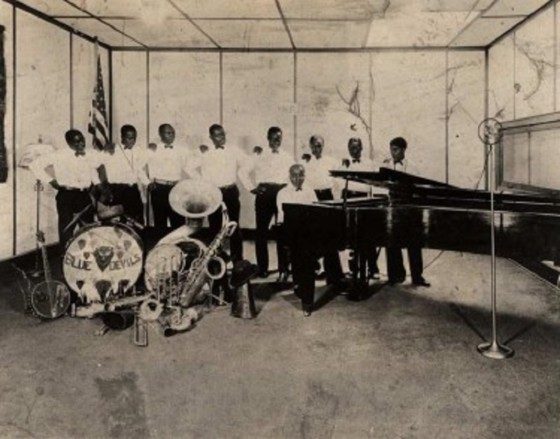 sources:
http://www.okhistory.org/publications/enc/entry.php?entry=BL012