It was after the Civil War when men and women began to form baseball teams. One team in particular that was formed was the Philadelphia Dolly Vardens. Although the women were great at the game, the All-American Girls Professional Baseball League unofficially prohibited black women; and this was after Jackie Robinson broke the color barrier.
The Dolly Vardens, however, did not allow that to stop them. The team of women actually began playing baseball two years before the first male professional team and did it in corsets, long skirts, and high button shoes. The team went on to become the first team at any level to be paid to play baseball.  The women earned their living by playing solid ball from the 1890s until the early 1930s. However, the public did not take to well to it. Most people felt the game was far too dangerous for young "delicate" women.
The Baseball Hall of Fame finally gave women African-American women who played the game their due in 2006 when it inducted its first female member, Effa Manley (a multiracial woman) for her role as an executive in the Negro Leagues and as a civil rights activist.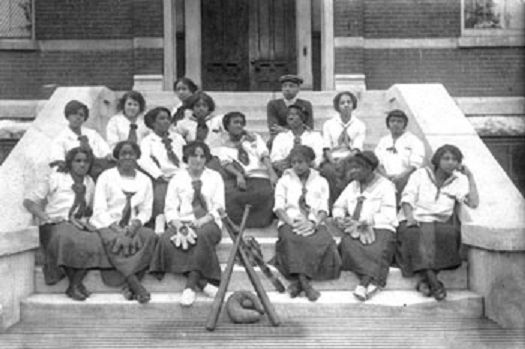 source:
http://web.usabaseball.com/playball/womens-baseball/history/