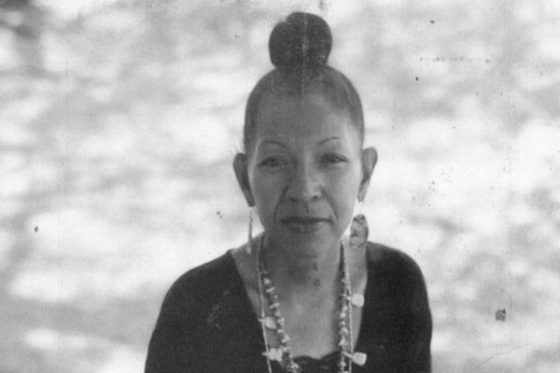 Ai Ogawa was an American poet and educator. She won the 1999 National Book Award for Poetry for Vice: New and Selected Poems. She is noted for her uncompromising poetic vision and bleak dramatic monologues which give voice to marginalized, often poor and abused speakers. Though born Florence Anthony, she legally changed her name to Ai which means "love" in Japanese.
Ai, described herself as 1/2 Japanese, 1/8 Choctaw-Chickasaw,1/4 Black,1/16 Irish, and Southern Cheyenne, and Comanche, was born in Albany, Texas in 1947, and she grew up in Tucson, Arizona. She was also raised in Los Angeles, Las Vegas, and San Francisco, with her mother and second stepfather, Sutton Haynes.
From 1969 to 1971, Ai attended the University of California at Irvine's M.F.A program where she worked under the likes of Charles Wright and Donald Justice. She is the author of No Surrender, (2010), which was posthumously published after her death, Dread (W. W. Norton & Co., 2003); Vice (1999), which won the National Book Award and numerous others.
Ai was checked into the hospital on March 17, 2010 for pneumonia. Three days later, Ai died on March 20, 2010 at age 62.
Passing Through
Poem by Ai Ogawa
"Earth is the birth of the blues," sang Yellow Bertha,
as she chopped cotton beside Mama Rose.
It was as hot as any other summer day,
when she decided to run away.
Folks say she made a fortune
running a whorehouse in New Orleans,
but others say she's buried somewhere out west,
her grave unmarked,
though you can find it in the dark
by the scent of jasmine and mint,
but I'm getting ahead of myself.
If it wasn't for hell,
we'd all be tapdancing with the devil
Mama Rose used to say,
but as it is, we just stand and watch,
while someone else burns up before salvation.
"People desire damnation, Bertha," she said,
unwrapping the rag from her head
to let the sweat flow down the corn rows,
plaited as tightly as the night coming down
on the high and mighty on judgment day.
They say she knew what was coming,
because she threw some bones that morning.
She bent down to pick up her rag which had fallen
and when she straightened up, her yellow gal
had gone down the road.
"Go then," she called out, "I didn't want you no how."
Then she started talking to herself
about how Old White John caught her milking cows.
"He wrestled me to the ground and did his nastiness."
He said, "your daddy was a slave and his daddy
and I'm claiming back what's mine."
It was July. I remember fireworks going off outside.
When Bertha come, so white
she liked to scared me to death,
I let her suckle my breast
and I said, "All right, little baby,
maybe I'll love you. Maybe."
Mama Rose said she did her best,
but it's hard to raise a gal like that
with everybody thinking she's giving them the high hat,
because she's so light and got those green eyes
that look right through you. She frightens people.
Even men, who're usually wanting to saddle up
and ride that kind of mare, can't abide her.
They're afraid if they try her, they'll never be the same.
The only ones willing are white.
They're watching her day and night,
but they know John swore to kill any man
who touched her,
because lo and behold, he owns up to her.
He's proud of her. Nobody can believe it.
He's even at her baptism.
He buys her cheap dresses and candy at the store.
He hands it to her out the door,
because she can't go in.
He won't, he won't stop looking at her
like it's some kind of miracle she was born
looking so much like him and his people.
It's a warning, or something.
"It's evil turning back on itself," said the preacher
the Sunday cut clean through by the truth,
by the living proof, as Old John stood up in church
and testified to the power of God,
who spoke to him that morning,
telling him he was a sinner.
He died that winter. Horrible suffering, they say.
He had a stroke on the way to town.
His car ran off the road and he drowned.
They say Bertha found him.
They say she ran all the way to town for the doctor,
who told her, "I am not a colored doctor,"
so she went and got the sheriff.
He listened for a while, then he locked her in a cell.
He said he knew she was guilty of something.
Well, after a while, Rose went down there
and I swear she nearly had a fit.
"Get my daughter out here," she said.
"How can you lock up your own brother's child?"
The sheriff knew it was true, so finally he said,
"You take her and don't ever cross my path again."
When Bertha passed him on the way out,
he tripped her with his foot.
When she got off the floor, she said,
"Every dog has its day."
From that time to this is a straight line,
pointing at a girl,
who doesn't even have shoes anymore,
as she runs down the road,
throwing off her ragged clothes, as she goes,
until she's as naked as the day she was born.
When she comes to washing hanging on the line,
she grabs a fine dress and keeps on running.
She's crying and laughing at the same time.
Along comes a truck that says J. GOODY on the side.
The man driving stops to give her a ride.
He swings the door open on the passenger side,
but Bertha says, "Move over, I'll drive."
When she asks him why he stopped,
he says, "I know white trash, when I see it.
You're just like me, but you're a girl. You're pretty.
You can free yourself. All you have to do
is show a little leg and some titty in the big city."
He gave her fifty cents and a wink
and she started thinking she might as well turn white.
She got a job waiting table in a dance hall.
One night, the boss heard her
singing along with the band.
He said, "Why don't you go up on stage,"
and she said, "I play piano too."
He said, "Howdy do."
From then on, she made everybody pay
one way, or another.
She got hard. She took lovers—
fathers, sons, and husbands.
It didn't matter,
but once in a while, she heard her mother's voice,
saying, "You made the wrong choice,"
and she felt the blues
and she let loose with a shout.
"Lordy," said the boss, "you sound colored."
More and more people came to hear her sing,
but they kind of feared her too.
They said, she was too white to sing the blues like that.
It wasn't right.
One night, she got to talking with the boss.
He walked round and round the office, shaking his head,
saying how much he'd lose,
if she stopped singing the blues.
"How often can you find a treasure like mine," he said,
laying his hand on her shoulder,
then he said, "If I weren't so old,"
and his voice dropped off to a whisper,
then he said, "I got the answer now, sweet Roberta.
Go on down to the dressing room and wait."
It didn't take long.
He came in and set a jar on the table.
"What do I do with this?" Asked Bertha.
He said, "you're going to pass for colored."
Suddenly, she was wearing blackface.
Suddenly, she was safe on the other side
of the door she slammed on the past
and it was standing open at last.
She could come and go as she pleased
and no one saw her enter, or leave.
She was free, she was freed,
but she didn't feel it
and she needed it to be real.
She went on, though. She flowed like a river,
carrying the body of a man,
who had himself a nigger, because he could.
She lived. She got old.
She almost froze one cold spell
and she got up from her sickbed
and told her daughter
she got during the change of life
it was time to go.
She sewed a note to her ragged coat.
It said, "This is the granddaughter of Mama Rose."
She put fifty cents in her hand
and went to stand with her at the bus stop.
She would not return, but her child
had earned the right to go home.
When I got off the bus,
a hush fell over the people waiting there.
I was as white as my mother,
but my eyes were gray, not green.
I had hair down to my waist and braids so thick
they weighed me down.
Mother said, my father was a white musician
from another town,
who found out her secret
and left her and me to keep it.
Mama Rose knew me, though, blind as she was.
"What color are you, gal?" She asked
and I told her, "I'm as black as last night."
That's how I passed, without asking permission.
source:
https://www.poets.org/poetsorg/poet/ai
https://www.poemhunter.com/poem/passing-through-16/